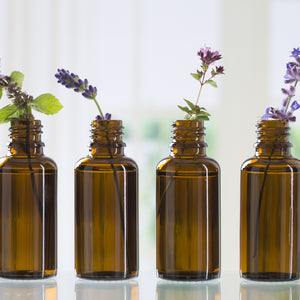 Spring and summer are a time of rebirth, new life, and awakening! Flowers are blooming, the sun is shining, and our "to-do" lists seem to be lengthening! With more daylight and warmer temperatures, it's easy to fall in love with the outdoor activities and the whimsical atmosphere that only spring and summer can provide. Today, we've got some tips to help you best embrace the season while staying healthy, fresh and florally inspired! 
First up: essential oils! These lovely oils, in all their glory, afford us many ways to get ready for, enhance, and recover from all the seasonal fun. Use essential oils to help your body to stay cool and calm, prepare for long periods of travel, soothe skin after prolonged time in the sun, pool, and salty air, and to destress after a hectic workweek! 
For a layer of added luxury, we suggest diffusing a citrus or sandalwood oil to enhance your surroundings and daily sensory experience. Aromatherapy enables us to enjoy the scents of spring and summer from the comfort of our homes while providing additional benefits to our overall health and well-being. 
To help you sift through the dozens of essential oil blends out there, we have assembled a list of our favorite spring and summer go-to diffuser blends that are refreshing, uplifting, and energizing!
Spring Cleaning – Spring is the perfect time for a crisp and clean scent in your home. Diffuse this blend to give your home a touch of spring freshness!
Tropi-cali Dreams – Close your eyes and dream of paradise with this tropical mix.
Breathe Easy Blend – Use this diffuser blend for the days where you need a breath of fresh air.
Summer Nights Vibes – The combination of lavender, spearmint, and lemon essential oil will bring the calming ocean scent to you. 
Fresh And Clean– Use this blend to purify the air and kill airborne viruses and bacteria.
Bye-Bye Bugs Blend – Despite all of its perks, we know that this time of the year also means that our 'creepy crawly' friends come out to play! To avoid the insect infestation this summer, try this repelling blend.
How to use essential oils?  
Inhaling an essential oil is one of the quickest ways to experience its therapeutic benefits.  Using an essential oil diffuser makes mixing and matching oils seamless and fills an entire room with the aromatic scents. An essential oil diffuser is an ideal way to freshen up the home without overpowering the senses. Some of our favorite diffusers on the market today are the Petal Diffuser by dōTERRA, the Sztrokia Essential Oil Diffuser, and the Tonerone Essential Oil Diffuser. 
To have the whole house smelling summery, mist oils in a spray bottle with water and mist over the furniture, or add oils to a batch of laundry/ dryer sheets. Another fun way to incorporate these blends into your everyday activities is to apply the oils onto a cotton ball and place them in the air vents of your car before a long road trip. 
If any of these blends caught your eye, give them a try and experience the beauty and fun of spring and summer in every season. Having a seasonally scented home will bring the season's spirit to all who walk through the door! 
Happy diffusing!