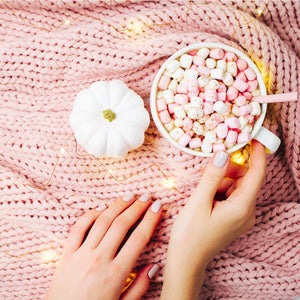 Although some may swear by sticking to their routines year round, switching (or adding) products as seasons change is necessary to shield skin against the ever changing environmental conditions. With the season of hot showers, heaters, and bone chilling winds knocking at the door, so too should our winter skin care routines be! Indeed, using a heavier cream or an oilier foundation in the colder seasons helps combat moisture loss and dryness while the sweat and stickiness of summertime calls for lighter products and oil free makeup. With fall officially in full swing (pumpkin spice everything, always)  it's time to make sure our routines are ready to provide skin with the defenses it needs to thrive and maintain its healthy glow during the colder months. Read on for a list of our top 5 fall tips to keep skin hydrated, and a few DIY recipes to try this season!
#1 Opt for a thicker moisturizer 
In the summertime, lightweight moisturizers are recommended to prevent congestion and clogged pores. The changing of the leaves, however, also means that it's time to swap those summer staples for richer, heftier hydrators. To compensate for the change in weather conditions and humidity, our skin needs more moisture and assistance in retaining that moisture. If you struggle with an oily complexion and tend to stay away from thick moisturizers throughout the year, look for non-irritating and noncomedogenic hydrators such as aloe, hyaluronic acid, and glycerin.
#2 Use an Eye Cream
There isn't a more crucial time to add an eye care product to your routine than the beginning of fall. The eye area loses more moisture than the rest of our skin and is the first to show premature signs of aging. Because of this, keeping the eye area moisturized and plumped better equips it to combat the season's environmental stressors.
#3 Invest in a humidifier
Winds, indoor heaters, and hot showers all strip the skin of necessary moisture. Keep a humidifier on at night and when the heater is turned on to boost the hydration in your home and keep skin supple all season long.
#4 Love your lips!
The lips are another extremely delicate part of the face that are more easily prone to wrinkles and fine lines. During fall and winter, moisture loss in the lips is far too common - leading to chapped and flaking lips. Keep lips moisturized by using a lip scrub once a week and a hydrating lip balm daily!
#5 Take advantage of the season's fruits and vegetables
If you don't already know about the wonderful, antioxidant-rich skin benefits of pumpkin, read about it here. In short, pumpkins are filled with minerals, vitamins, and enzymes that are renowned for brightening, tightening, softening, and boosting collagen production in the skin! 
The fall season comes with many ingredients that are not only delicious to eat, but are also fantastic for the skin. You can use just about any "fall" food (pumpkin, cranberries, oatmeal, brown sugar, cinnamon, etc.) to make your own DIY arsenal of fall-friendly skin care! 
DIY Pumpkin and Oatmeal Moisture Mask
You'll Need:

2 TBSP canned pumpkin puree

1 TSP

jojoba oil

1 TBSP plain oatmeal (best if blended for a finer texture)

½ TSP pumpkin pie spice
Combine ingredients in a bowl and mix together. Apply and leave on for 10 – 15 before rinsing with warm water. Oatmeal is a humectant that helps skin retain moisture. Combined with pumpkin's benefits, this moisture mask will not only brighten skin, but will add a dewy glow as well!
DIY Pumpkin Clay Mask
- 1 tablespoon organic pumpkin

- 1 tablespoon kaolin clay

- ½ TBSP

Argan oil

(

jojoba oil

works too!)

- 1 drop clove essential oil
Mix pumpkin puree and kaolin clay together in a small bowl before adding in argan oil and clove essential oil. Stir together. Spread onto the face with clean fingers and rinse well after 10-15 minutes. Follow with your favorite moisturizer and enjoy the brightening effects of pumpkin, the detoxifying properties of kaolin, and the moisturizing quality of argan!