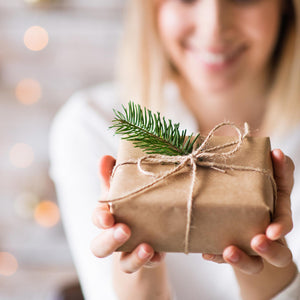 With the season of hot cider, cozy blankets, and chillier temperatures upon us, Eve Hansen is officially in winter mode! It is no secret that wintertime is the harshest season on our skin, and how we look after our skin throughout the season can impact the way that our skin looks and feels in the months that follow! So, why not give the gift of hydration? ❤️ Read on for our top picks for this season's hydration heroes!
Winter Pick #1: Hyaluronic Acid Serum 
Attention all skin types: If a hyaluronic acid serum is not part of your current routine, we strongly recommend to make the change! Increased winds and cooler temps cause our skin to lose moisture - leading to dullness, loss of firmness, and increased visibility of the signs of aging. Hyaluronic acid is renowned for its ability to retain water - combating the inevitable moisture loss that our skin goes through during winter. Additionally, because it is a humectant, hyaluronic acid's benefits can be enjoyed by all skin types as it won't clog pores or trigger oiliness. Use your serum consistently to moisturize, repair, and regain your skin's natural glow!
Winter Pick #2: Almond Oil
Almond oil is an excellent moisturizer and carrier oil that can be used in many DIY products such as body butter, lip balm, and shampoo. Not only does its sweet and nutty aroma make it a winter favorite, but its ability to treat dry skin, a dull complexion, itchiness, hair loss and breakage as well as muscle pain make it a true hydration hero! 
Winter Pick #3: Clean Essentials Vitamin C Night Cream
Winter winds are also capable of stripping skin of its natural glow. Because of this, adding a Vitamin C Cream to your routine can restore skin's moisture while supporting collagen synthesis to reveal a brighter and younger looking complexion.  Our night cream is formulated with an optimal level of vitamin c - to repair skin while you sleep - and other nourishing ingredients to keep skin supple and soft.
Our entire clean essentials line uses vitamin c as the hero ingredient. Alll formulas in the collection are hypoallergenic and dermatologist tested - so use (or gift) with confidence!
Winter Pick #4: Jojoba Oil
Another organic carrier oil that makes our hydration hero list is jojoba oil. Jojoba oil is a gentle emollient moisturizer that can be used on its own or as a carrier oil for essential oil blends. Those with dry skin can greatly benefit from jojoba's skin softening and moisturizing capabilities as the oil penetrates dry patches to nourish skin and soften rough texture. Furthermore, because jojoba is so close in composition to our skin's natural sebum, this oil can also be an ideal moisturizer for oilier skin types! Non Comedogenic in nature, jojoba oil won't clog pores and can even regulate excess oil production by restoring optimal moisture to skin! 
Winter Pick #5: Hyaluronic Eye Gel
Because dry and dehydrated skin amplifies the appearance of fine lines and wrinkles, add collagen and elastin building products into your routine to support healthy skin. A hydrating eye gel is also a must as this delicate area of one's face is the first to incur damage when outdoor temps and weather gets harsh!