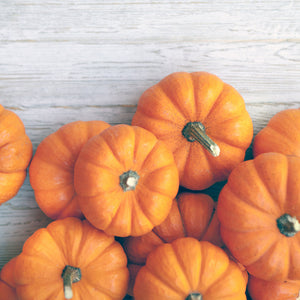 Ingredient of the week: Pumpkin extract 
Scientific name: Cucurbita pepo
History/Benefits: Without a doubt, pumpkins are one of the most popular fruits during this time of year. Whether in our lattes or skin treatments, we're more than happy to embrace them! In our latest blog post, we discussed some essential fall skin care tips, including the skin benefits of pumpkin as an ingredient. While it may be most fitting for autumn, using pumpkin in our routines can help to nourish skin all year long! Rich in essential vitamins, AHAs and enzymes, pumpkin helps to boost cell turnover, leading to smoother and brighter looking skin. Because the chillier seasons can really strip skin's natural luster, pumpkin is a great go-to ingredient to restore a glowy complexion throughout the cooler months. 
The presence of alpha-carotene, beta-carotene, and other carotenoids in the vividly orange pulp of pumpkins can help to defend skin cells against oxidative damage - making pumpkin an ideal, natural treatment for improving the appearance of skin tone and reducing the visibility of wrinkles and fine lines. Pumpkins are also a fantastic source of Vitamin C, Vitamin A, Vitamin K, and most of the B vitamins - all of which have unique and powerful effects on the skin.
 (Read about the different skin vitamins here)
Skin Types:  Pumpkin's brightening and anti-aging benefits can be enjoyed by most skin types. Additionally, the presence of B vitamins in pumpkin make it a great treatment for acne. Being versatile in nature, those with dry skin types can enjoy the brightening benefits of pumpkin by using it in conjunction with other hydrating ingredients. 
How to use pumpkin in your skin care routine:  
Many body masks, face masks and scrubs on the market have begun utilizing pumpkin as an ingredient to restore glowing skin. If you want to take a DIY approach, pumpkin puree can be combined with many other household ingredients to make all natural treatments to store and use throughout the week. 
DIY C-Boost Face Scrub
Ingredients: 
Pumpkin puree 

Few drops of your favorite

Vitamin C Serum

1 tbsp brown sugar 
Mix ingredients and massage onto face with gentle, circular motions for an exfoliated and brightened complexion!