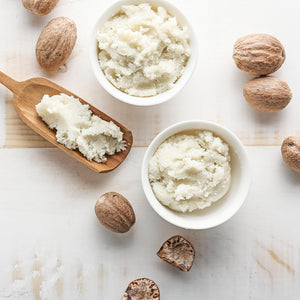 Scientific Name: Butyrospermum Parkii
Benefits/History: Derived from the karite tree, shea butter is an oil rich in fats and has proven to be a wonderful solution for many skin, hair and health issues. Shea butter is rich in oleic acid, stearic acid, and linoleic acid, and gets easily absorbed into the skin as it melts at body temperature. Because it is rich in fats, shea butter makes an excellent topical emollient and skin moisturizer, and has even shown to have significant anti-inflammatory properties as well. This ingredient can commonly be found in moisturizers, creams, lotions, and other emulsions for skin and hair. 
Shea's anti aging benefits are found in its natural occurence of vitamin A and E - which improve skin health and may provide protection from sun damage. The Vitamin E found in shea butter also soothes dryness and improves the elasticity of skin. 

Skin Types: 
With the cooler temperatures of fall upon us, skin flaking/cracking is becoming more of a concern for those who struggle with seasonal dryness. Incorporate shea butter into your daily routine and skin will stay smooth and supple all season long! 
Shea butter is used to soothe and nourish the dryness and dehydration in skin and helps to protect skin's natural oils - making it the ideal skin moisturizer for dry complexions. Additionally, as rich and luxurious as shea butter is, those with oiler skin types can also indulge in this ingredient's benefits. With a comedogenic rating of 0, shea butter won't clog pores! This fall, glowing skin is achievable by ALL with this all-star moisturizer. 
Eve Hansen Products with this Ingredient: