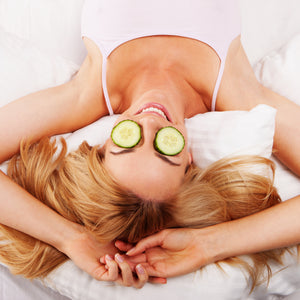 Puffy eyes – we've all been there. There are a variety of causes of this unwanted symptom: either allergies, too much salt, no sleep, or your skin is just naturally prone to puffing up.  Thankfully, there are also a bunch of natural skin care products that can help soothe and reduce the appearance of puffiness around the eyes basically overnight!
The skin around our eyes are extremely sensitive and prone to irritation. Natural products are always a better alternative to the toxic and irritant chemicals found in many drug store eye care products.
These following Eve Hansen products are uniquely formulated to help combat puffiness alongside every eye area concern, while treating and preventing future eye skin damage.
If you've ran out of your favorite puffy eye treatment, there are many antioxidant-filled food items around the house you can utilize as a quick-fix for those dreaded puffy eyes.  
Try these speedy home remedies until you receive your product!
Tea Bags

Cold Milk

Cold Compress

Cucumber Slices

Tomato Juice + Lemon Juice solution

Potatoes