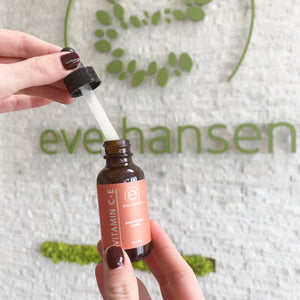 Are you sometimes confused when sifting through the list of vitamins on the back of a product label? Don't worry, you're not alone and we are here to help! Certainly, some of the more familiar vitamins we often find in skin care products, such as vitamin e, vitamin a, vitamin c, vitamin k, vitamin… well, you get the point, are effective when used to treat our complexions. Still, what makes each of them unique? What do each of them really do for us? Read on for a breakdown of some of your favorite skin-regenerating vitamins and their remarkable benefits.
Vitamin A
In short, Vitamin A is the vitamin responsible for keeping skin healthy, firm and radiant! Vitamin A comes in many forms, the most prominent among them being retinol - the skin care community's favorite anti aging powerhouse serum. Vitamin A improves skin clarity and firmness by encouraging healthy cell production, and for stimulating fibroblasts. Fibroblasts are cells that develop the tissue that keeps skin firm and healthy. By stimulating and increasing skin cell turnover, the surface cells of the skin (carrying the damage, roughness, and hyperpigmentation) are shed, making room for newer, healthier cells. Because of this, Vitamin A is a vital tool in combating wrinkles, improving skin's glow and clearing stubborn pores.
Eve Hansen Products with Vitamin A:
Retinol 2% Serum
Hyaluronic Acid Cream
Turmeric & Cranberry Face Mask
Vitamin C Eye Gel - Clean Essentials
Vitamin C
Whether topical or internal, many are aware of vitamin c's important functions and the benefits it provides for our bodies and skin. Vitamin C has been a long-time skin care superstar due to its anti aging and brightening benefits. Vitamin C is the main component responsible for the natural collagen synthesis in our bodies - the protein the keeps skin smoother, firmer and younger looking. As we age, the presence of collagen in our skin dramatically drops in number - causing skin sagging, wrinkles and fine lines. Because Vit C helps support the natural production of collagen, using this vitamin in our products not only prevents the visible signs of aging, but can help reverse existing damage.
Eve Hansen Products with Vitamin C:
Clean Essentials Vitamin C Line
Turmeric & Cranberry Face Mask 
Vitamin E
Known as the anti aging antioxidant, Vitamin E is a key component of a healthy skin care regimen. As an antioxidant, Vitamin E works to combat the damaging toll that daily stressors, pollutants, stress and unhealthy foods take on our skin. Every antioxidant takes the role of protecting skin cells from damage, but this is central to vitamin E's advantages as an ingredient in our products, as our skin contains more vitamin E than any other nutrient. Vitamin E is uniquely positioned in our sebum (skin oil) to maintain the health and outward glow of our skin. The topical application of Vitamin E helps prevent the signs of aging, hydrates and calms skin, combats irritation and inflammation, reduces the signs of free radical damage, and can help reduces the appearance of scars.
Eve Hansen Products with Vitamin E:
Retinol 2% Serum

Vitamin C Serum

Vitamin C Eye Gel

Hyaluronic Acid Cream
 
Vitamin C Night Repair Cream

Blue Tansy Facial Oil

Turmeric & Cranberry Face Mask

Vitamin C Eye Gel - Clean essentials


Vitamin K
Used as a common ingredient in topical anti aging creams, vitamin k is a skin healing agent that is used to combat a variety of skin concerns. Vitamin K is essential in helping the body heal wounds, stretch marks, scars, spider veins, bruises, and dark circles under the eyes.
Vitamin B5
Skin care product formulations that contain vitamin B5 - also known as panthenol or pantothenic acid - are favored for the ability to deliver intense hydration to the skin.  Vitamin B5 has shown to nourish the skin's moisture barrier by preventing water loss and support barrier function. As moisture loss is directly tied to the loss of skin suppleness and elasticity, Vitamin B5 is an extremely valuable addition to any skin care routine.
Eve Hansen Products with Vitamin B5:
Vitamin C Moisturizer
Hyaluronic Acid Cream
Vitamin C Night Repair Cream