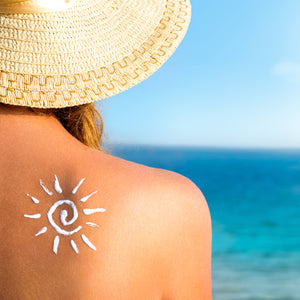 Ah, summer – as our favorite t-shirts and shorts come out to play, keeping our skin beautiful and glowing becomes more of a priority.  Throughout the season, our skin experiences a drastic increase in sunlight exposure as we spend more time outdoors. In addition to the possible risk of sunburns, prolonged exposure to UV rays can cause dryness and accelerate the visible signs of aging on the skin like fine lines, wrinkles, age spots, and loss of firmness. As such, a summer specific skin care routine is crucial to emphasize hydration, exfoliation, and protection.
Of course, it can be tough to switch products and change your routine for a new season. Luckily, we've put together 7 of our favorite summer skin care tips and practices to make this transition seamless and effective. With the necessary nourishment and practices, your skin will thrive all summer long!
# 1 ) Mist your worries away!
 One of our favorite summer tricks is to carry a hydration mist toner at all times! Stash a toner in your purse or fridge and mist your face/body to soothe and hydrate parched skin while cooling you down. Also, if you're like us, sweating away makeup is one of the most frustrating parts of summer. Fortunately, face mist may double as a makeup setting spray to ensure that your look lasts throughout the day. Face mist can also act as a makeup freshener for those mid-day pick me ups or a gentle makeup remover.
# 2 ) Cleanse twice a day
Heat, humidity, perspiration…During the summer, our skin tends to produce double the oil it usually does. Use an effective cleanser at least twice a day to mattify that summer sheen. Cleanse first thing in the morning to remove the previous night's oil and residue in addition to cleansing nightly to remove each day's sweat, makeup, and dirt accumulation.
# 3 ) Invest in a lighter daytime moisturizer
Switching out your heavy oil-based skin cream for a lighter day moisturizer (with SPF) for summer is a must! A thick cream can mix with the oil and sweat collected on the surface of your skin throughout the day. Lightweight face moisturizers absorb more quickly, making it less likely to mix with skin surface buildup.
# 4 ) Keep skin hydrated
Dryness becomes extremely common as temperatures skyrocket. Therefore, it is vital to replenish skin moisture with a concentrated dosage of hydration regularly throughout the day. Look for creams and moisturizers containing aloe vera for an extra kick of moisture delivery to sun kissed skin.
# 5 ) Hello, Vitamin C
Adding vitamin C serum or other vitamin c products into your skin care routine is a great way to not only protect your skin from harsh UV rays, but to also reverse existing sun damage. The antioxidant properties of vitamin c deliver nourishment to skin and help to repair free radical skin cell damaged caused by environmental toxins, pollutants, and excess sun exposure.
# 6 ) Exfoliate, exfoliate, exfoliate!
One of the quickest and most effective ways to get glowing skin is by committing to a regular exfoliating regimen. Exfoliation removes dead and dull skin cells to prevent oil/dirt buildup and blockage of skin pores. Pay special attention to elbows, knees, heels, and other areas prone to excessive dryness. One of our favorite scrubs to use during the summer is our coconut coffee body scrub. Studies have shown that the topical use of caffeine stimulates blood flow beneath the skin's surface, leading to a reduction in the appearance of cellulite, stretch marks, and varicose veins. Smooth skin and vein care? Yes please!
# 7 ) Bathe in your SPF
Not really, but you get the point! UV rays are harmful all year long, but prolonged time spent outdoors makes UV ray exposure even more harmful throughout the summer months. Apply and reapply your sunscreen (minimum SPF 30) every few hours. As we learned in a previous blog post, being indoors does not mean you're exempt from sunscreen use. UV rays are aggressive and sneaky – don't let them damage your skin! Don't forget your lips, hands and the backs of your ears when applying sunscreen as these areas are easy to forget!