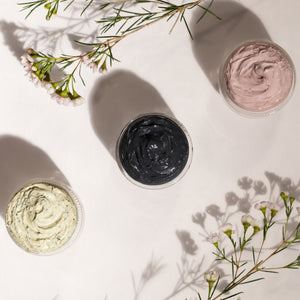 Clay masks have been all the rage in recent years and it's easy to understand why! The big selling point: Clay's natural ability to draw out toxins! Binding metals like mercury, lead, benzene, and other pollutants, clay masks effectively remove harmful toxins from the skin's delicate surface. Targeting toxins to bind with as a result of its natural molecular charge, clay takes many unwanted substances with it when washed away from the face.
Let's take a closer look at the ways clay masks may support skin health. Most skin difficulties come down to three key issues: inflammation, bacterial imbalance, and toxicity. All three of these common concerns may be alleviated with the topical use of clay, working to soothe, nurture, and detoxify the skin. 
Clay masks work for all skin types, but the frequency with which they are applied should vary. Individuals with regularly clogged pores and oily skin may be able to effectively use these products as often as once per day. Users with normal to dry skin types will benefit most from clay mask applications only a few times per week.
There are several variations of clay to choose from and they all hold unique skin purifying abilities. Read below to find which masks are right for you!
French Rose Clay
French clay should be your go-to for exfoliation, pore-tightening, and oil-absorption. French rose clay, in particular is known for its gentle nature and is a great match for those with sensitive and mature skin – with or without acne. This mask is ideal for all skin types as it does not dry out skin or strip it of its natural oils and moisture.
French Rose Clay is safe for even the most sensitive of skin types because of its gentle cleansing action. Rose clay helps calm irritated and inflamed skin while simultaneously clarifying and hydrating. This mask will help absorb impurities form the skin, cleanse away makeup, dirt, and oils, exfoliate dead skin, and reveal a youthful and brightened glow! 
Activated Charcoal Clay Mask
Activated charcoal is an absolute skin care treasure (in our humble opinion) for those with oily skin. Charcoal is ultra-detoxifying because of its absorbing properties and promises a deep cleanse that helps unclog pores, minimize their appearance, and instantly achieve a softer and smoother complexion. 
Our skin is hit continuously throughout the day with toxins and dirt that may clog pores. The daily buildup of pollutants on our skin greatly contributes to the look of dull and tired complexion. Working to deeply cleanse and pull out toxins from beneath skin's surface, regular use of a charcoal clay mask will reveal a soothed and illuminated complexion. 
Turmeric and Cranberry Seeds Clay Mask
Our unique combination of clay, turmeric and cranberry seeds makes for one major powerhouse mask! Turmeric is recognized around the world for its deep yellow color and widely admired for its dietary benefits. Furthermore, turmeric is a highly effective way to combat tough skin care concerns. When used on the skin, turmeric brightens and cleanses while also soothing conditions such as acne, eczema, psoriasis, dry skin, wrinkles, and dark circles. Turmeric's powerful anti-inflammatory properties stem from a phytonutrient called curcumin, also responsible for the ingredient's natural yellow pigmentation. Turmeric and its anti-inflammatory properties effectively target pores, calm various skin irritations, reduce scarring, help clear up acne from face and in turn reveal a natural, healthy glow.
The addition of cranberry seeds, rich in naturally occurring essential fatty acids, omegas 3, 6, and 9, and Vitamin E, helps to gently exfoliate and moisturize the skin while also protecting it from various environmental stressors. 
We hope you love these mighty treatments as much as we do! They're an effective addition to any skin care routine and beneficial for just about every skin care concern! Happy masking!!!