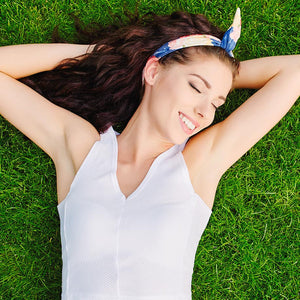 All skin care is NOT created equal, and as the seasons change, so should the products/ingredients we use in our routines. In a season where our skin is extra vulnerable to the environment's conditions, it becomes absolutely necessary to pay attention to what we are (or aren't) using in our daily regimen, as every ingredient serves a different purpose and delivers unique benefits to the skin. The hot and humid weather and blazing sun that comes with summer can cause a variety of skin conditions - from sensitivity and irritation to clogged pores and flared breakouts. Read on for Eve Hansen's summer skin care Do's and Don'ts!
The DO's
Aloe Vera
Aloe Vera - the most (in our humble opinion) important ingredient that belongs in any summer routine for all skin types. We talked about the year-round versatile benefits of aloe vera in an earlier blog post, but summer time is when this ingredient really shines! Although it's well known that aloe is a phenomenal remedy for soothing sunburns, incorporating this mighty plant into your skin care routine can have a transformative impact on your overall complexion. Aloe is a skin quenching hydrator that is non comedogenic and non greasy. It replenishes moisture while improving the look of puffiness, scars, redness, and swelling. The perfect summer multi-tasker!
Tea Tree
Those with oily skin can attest to summer being the worst time for acne-prone/problem skin. Tea Tree products are one of our favorite natural skin care secrets for clearing acne and combating oily summer skin. Tea Tree oil's antibacterial, antiseptic, and anti-inflammatory qualities treat fungal infections and kill the bacteria that causes skin blemishes.
Vitamin C
Antioxidant rich ingredients like vitamin c are an absolute must for the summer. Although they can be used all year long, their ability to protect and repair oxidative stress and sun damage is crucial when the summertime sun is in full swing.
Witch Hazel
A beauty favorite for hundreds of years, witch hazel is another ingredient on the summer must haves list! One of witch hazel's prominent benefits is its ability to reduce irritation and inflammation - which naturally escalates with the warmer months. Pro tip for our oily-skinned friends: mix, or look for products with both tea tree oil and witch hazel, for the ultimate skin clearing duo.
The DON'TS
The common factor between all the ingredients on the 'Don't' list is that they make skin more vulnerable to the damage caused by the sun's rays. Truth be told, depending on your skin type, it may be perfectly okay for you to use all of these ingredients/products listed in your routines - our only recommendation would be to listen to your skin/monitor its reactions and to not over do it with the usage. That being said, let's take a look at the items that made it to the summer DON'TS list:
Retinol
Retinol isn't necessarily a 'don't', as the renewing benefits of the ingredient can definitely be enjoyed in the summer (just don't forget the SPF!). However, if you have sunny vacations and multiple trips to the beach planned- where avoiding the sun could be difficult -  it's better to put a pause on the retinoid treatment. Skin that is treated by retinol is extra sensitive to sunlight, and overexposure to it can cause skin damage including redness, photo-aging, and even burns.
AHAs and BHAs
Commonly used to brighten skin and treat acne, AHAs and BHAs are powerful ingredients used in skin care products to regenerate skin cells and reveal a clearer, fresh layer of skin. This regeneration process inevitably causes the new skin to become easily affected by the sun's damaging rays. Because it may be unrealistic to completely give up your acne treatments for a whole season, look for products like cleansers or foundations that include these ingredients, or opt for lighter percentages. 
Benzoyl Peroxide
A common ingredient in acne treatments/products, benzoyl peroxide is on the DON'TS list because it decreases skin's tolerance to UV radiation.
Hydroquinone
Often used to brighten skin, hydroquinone ingredient exposes the surface of the skin - making it super sensitive to UVA/UVB rays
Heavy Face Creams
Unless you have extremely dry skin, not over-applying face creams will help avoid clogging pores and triggering breakouts. A lightweight SPF moisturizer paired with a hydrating serum like hyaluronic acid, will replenish moisture while not being too heavy on the skin.
Happy Summer!