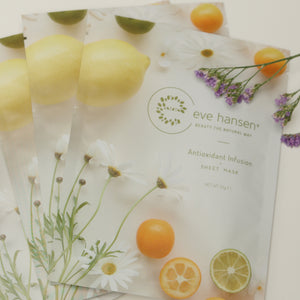 Sheet masks are a great, quick way to relax, revive, and rejuvenate tired skin. They have been gaining increased popularity in recent years because of how well they function, how easy they are to use, and how they effectively brighten and hydrate skin. Sheet masks are designed to target many specific skincare concerns, and are effective at consistently executing their purpose. Although distinguishing from an abundance of sheet masks that are available out there may be a bit overwhelming, it is still important to discover the best one for your unique skin composition because the benefits from mask to mask greatly differ as not all sheet masks are created the same.
Now that we know sheet masks are quick, easy, and powerful, below are a few tips and tricks to keep in mind when you've officially become a part of the sheet mask craze!
Look for Ingredients
The first thing to look at when deciding to buy a sheet mask is the ingredients. Everyone's skin is different and therefore, it is crucial to make sure the ingredients found in the product are safe and compatible with your skin type. Products that contain all natural ingredients are often the safest and most effective as there are no uses of harsh chemicals that will irritate the skin. Beauty the natural way is our ideology here at Eve Hansen!
Additionally, it is important to assess whether or not the product ingredients will be able to target your unique skin care concerns. Trying to combat skin redness and unclog stubborn pores? Attempting to restore elasticity and suppleness? Or trying to achieve healthy moisture levels? Be rest assured there is a sheet mask for your concern. The ingredients list is the first tip off as to which mask is right for you!    
Properly Prepare Your Skin
For sheet masks to be able to work their magic, it's your responsibility to set them up for success by correctly prepping your skin for sheet mask serum absorption. Thoroughly cleanse skin – removing all traces of makeup, dirt, oils, and debris from the face. Exfoliating skin will only aid in effective absorption! Cleansing the skin before mask application is done to ensure the ingredients found in the masks have a cleared pathway to penetrate the skin's outer layer and move deep into the lower layers where intensive skin repair can begin. Sheet masks are one size fits all, so make sure to gently press and smooth the mask to cover all the curves and contours that are unique to your face structure to ensure every area of your face is able to reap the same benefits.
Stop, Drop, and Roll Onto The Couch
We all know that amid our busy schedules taking a quiet moment to ourselves seems chronologically impossible, but applying a sheet mask gives us the excuse to relax as the product demands some down time. The texture and consistency of sheet masks make them prone to moving, slipping and falling off the face. Because of this, it is best to take some you time on the couch, or on the bed, with your head positioned upward so your skin is able to fully absorb the nutrients of the mask.
Apply and Go
When you are ready to remove the mask, we know how tempting it can be to want to wash you face, but with sheet masks this is not necessary. There is no rinsing required as their nutrient packed serum – that the mask is drenched in – needs to be fully absorbed by the skin to provide optimal results. We also understand that throwing away the packaging may also be tempting but doing this can cause a lot of fresh product to go to waste. If there is any liquid remaining in the mask package, empty it into a bottle or container and use as a serum for the next few days. This will prolong the mask benefits past the 10-20 minute sheet mask session, and keep your skin looking brighter and hydrated longer.
Eve Hansen Sheet Masks
Here at Eve Hansen, we are falling in love with the powerful effects of sheet masks and are thrilled to introduce two NEW mighty masks into our skincare line: Collagen Boosting Sheet Mask and Antioxidant Infusion Sheet Mask. Each product comes in a pack of 5 and because we are huge advocates of clean beauty, our masks are made from nature's purest and most potent ingredients for facial renewal. 
Collagen Boosting Sheet Mask stimulates advanced collagen production in skin and works to help diminish the appearance of fine lines and wrinkles, while increasing skin tightness, moisture, and nourishment.
Our Antioxidant Infusion Sheet Mask contains a unique blend of ingredients to help tackle skin repair for dry, dehydrated, and sun damaged skin. This mask will work to reduce skin redness, noticeably improve skin elasticity and resiliency, and soothe UVA damage.  
Click here to view Collagen Boosting Sheet Masks