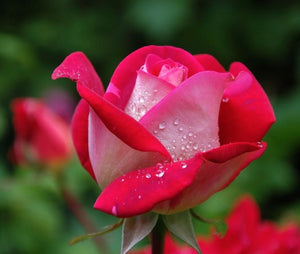 Eve Hansen is pleased to introduce our new 4 oz. 100 % Pure and Organic Moroccan Rose Water spray.
Rose water has been used for years to make skin and hair look great. But what most people don't know, is how to use it to take advantage of all of its health properties.
This is a remedy that has also been used by women to cool the skin during the hot weather in the summer. Rose water has the ability to smoothen, brighten and nourish uneven complexions.
Historically, rose water has also been used for other purposes in the home. In the Middle east and India, rose water is popularly used as culinary flavoring in many dishes to add the subtle rose flavor and fragrance. It also flavors deserts and can be added to vinegar, raw honey, lemonade, and brandy.
In addition to its uses for the skin and food, the light aroma of rose water is enjoyable to people suffering from anxiety and depression as it promotes a sense of wellbeing and ease.
What Is Rosewater?
Rosewater is a by-product of making rose water essential oil. The water that's left behind when roses are being distilled for their oils is what makes the rose water. Rose water may also be known as rose floral water or rose hydrosol.
Rose water's versatile nature makes it the perfect go-to product!
It is safe to use on even the most sensitive skin types. All skin types – including oily, dry, normal, combination, and acne prone – can reap the benefits of rose water.
The first uses of rosewater have been found in the early Egypt times. The legendary beauty queen Cleopatra used it in her skincare regime. But in order to follow in her footsteps and make sure you are only using the best, it is essential to purchase 100% pure rose water.
The Benefits Of Rosewater For Your Skin
Those suffering from skin irritations and acne can count on this natural solution. Rosewater has calming, cooling, and soothing properties, while having astringent and anti-inflammatory qualities as well. It helps balance the skin's PH levels, which is why it is commonly applied to red and blemished areas. Spraying it on the skin directly makes it more effective and reduces wastage.
Using rose water as a toner is an effective treatment against acne, because it acts as an antiseptic. It can control sebum production on irritated, sensitive, dry and uneven skin. This helps improve your outer skin barrier's ability to heal naturally.
Other than just tightening the pores on your skin and make them look smaller, rosewater maintains the skin's pH balance and controls excess oil. You will be able to naturally hydrate, revitalize and moisturize your skin in hot weathers.
The antioxidant properties of rose water help to strengthen the skin cells and regenerate skin tissues, while the antibacterial properties promote healing scars, wounds, and cuts. The astringent properties on the other hand clean blocked pores and tone the skin.
Rose Water For Acne
If you haven't suffered from acne, then lucky you! The rest of us need to find a natural solution to the problem.
Rosewater is a popular and excellent remedy for acne. The phenylethanol in the rosewater kills the bacteria that causes acne. When combined with lemon and glycerine, it can can stop the bacterial growth and give you a smooth and shiny face.
Here's how to use it: Mix 2 tbsp of rosewater with 2 tbsp of lemon juice and a tbsp of glycerin, then apply on your skin. Allow it to stay for 30 minutes. Once it dries, wash it off with fresh water and say goodbye to acne!
Rosewater For Oily Skin
Apart from just toning your skin, rosewater is also commonly used to tighten the skin pores as a solution for wrinkles. If you want to use rosewater mist to help with oily skin, be sure to apply it before you put on your make up. This will help your skin glow as it also prevents an oily mess.
Rosewater For Makeup Removal.
Many women subject themselves to the unnatural effects and feeling that comes with using artificial makeup removers. However, it's becoming more popular to use natural rose water as not only a makeup remover, but as a makeup setter and freshener as well. Rose water the ability to completely remove the makeup from your face without irritation and side effects. Simply apply it on a cotton pad and gently rub to remove makeup.
To make it even more effective as a makeup remover, you can first dampen the cotton pad with rose water and then add some liquid coconut oil on top of it.
Rose Water Cleanser
Your face will only look radiant if you take care of it with a proper skin care routine - using concealers and makeup can only go so far. Using rosewater facial spray is one of the most popular and natural ways to cleanse your face. After cleansing, be sure to use a good toner and moisturizer in order to have heightened results.
It is also recommended to apply rosewater at night to clear off the dirt you collected throughout the day. So wash your face with a facewash then add a few drops of glycerin to 1 tbsp rosewater and apply it of your face.
Rose Water Oil For Eyes
Soaking a cotton pad in chilled rosewater and applying it on the skin around your eyes can help get rid of tired, inflamed, and puffy eyes. Be careful not to get any in your eyes, though!
Rose Water For Hair
After you have shampooed your hair, use rosewater diluted in a cup as a final rinse. This leaves your hair looking shiny and acts as the best natural conditioner.
If your hair is dry and frizzy, mix equal parts of rosewater and glycerin, massage the solution onto your scalp for 10-15 minutes, and then let it stay for 30 minutes before washing it with shampoo. This can remove the problem and keep your hair shiny and controlled.
Simply spray rose water on your hair to tame frizz and fly aways!
Ready To Try Rosewater?
100% Pure And Natural Moroccan Rosewater.
Click here to view our Rose Water Sprays