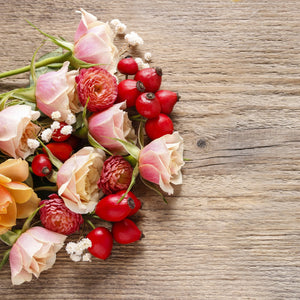 From the Egyptians, Mayans, and Native Americans of ancient days, to modern day celebrities and models, rosehip oil may just be beauty's most revolutionary secret. Rosehip oil's magic is in its richness in vitamins, antioxidants, and essential fatty acids. Known for its ability to repair skin cells, retain moisture, and restore elasticity, rosehip oil is climbing the charts as an anti-aging favorite product! The beauty industry is slowly turning to rosehip oil's healing properties in order to repair, rejuvenate, and correct skin impurities. This oil is ideal for correcting dark spots, hydrating dry / itchy skin, and reducing scars, stretchmarks, and blemishes. Alongside repairing damages and impurities, rosehip oil restores and enhances the glow and radiance that your skin might have lost somewhere along the road.
After cleansing and toning, apply 2-3 drops on your fingertips and massage this magic oil onto face and neck for vibrant, glowing, and radiant looking skin.
Here are 10 additional ways to use rosehip oil:
-Tame frizzy hair, fly-aways, and split ends by using rosehip as a finishing hair oil.
-Calms and soothes red and irritated skin.
-Smoothens chapped and flaky lips. Apply rosehip oil under lip balm / chap stick.
-Use as a deep scalp massage to help alleviate dandruff and damage caused by hair dye and the sun.
-Use as a pre-shave treatment to protect skin from razor burns.
-Soothes eczema and psoriasis.
-Protects skin prone to broken capillaries
-Strengthen and repair brittle and damaged nails
-Mix rosehip oil with body moisturizer and apply on arms and legs for a dazzling glow.
-Use to desensitize and nullify sensitive skin types
Join the revolution and start glowing with rosehip oil!