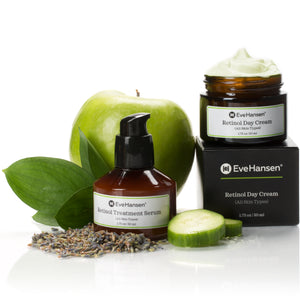 The most effective solution in preventing aging, reversing existing damage, and achieving facial rejuvenation is through daily use of the ingredient retinol.  Retinol is a highly concentrated derivative of Vitamin A, and it is a favorite anti-aging treatment because of its ability to stop and reduce the visibility of unwanted signs of aging such as wrinkles, fine lines, and age spots.
Benefits of Retinol
Vitamin A has significant effects on healthy cell production and development. Retinol works by causing skin cells to die faster than normal, thus causing newer cells to grow. This leads to smoother, softer, and even skin.
Retinol improves skin quality by increasing skin elasticity and collagen production, improving water barrier function, and regulates sebum production which is excellent for treating acne and aging. Additionally, Vitamin A is the only known ingredient that is able to shrink and reverse the signs of premature aging caused by excess UV exposure – photoaging.
In short, Retinol's benefits can be summarized to boost collagen production to reduce wrinkles and prevent fine lines, speed cell turnover to even out skin discoloration and brighten skin tone, unclog pores to reduce acne, and increase elasticity to lead to firmer and tighter skin.
How to incorporate retinol into skincare routine
Retinol may be used as an anti aging serum, cream, or moisturizer. Unless it is in a day cream, retinol use is recommended at night because the ingredient degrades in sunlight, and heat from the sun can contribute to excess redness and irritation. Daily sunscreen use is suggested when incorporating retinol into a regular skin care regimen.
In addition to retinol, it is essential to keep in mind to use other anti-aging, skin restoring, and antioxidant filled products in order to comprehensively target unwanted skin impurities.
A sample effective skin care routine includes the following steps:
Cleansing
Toning
Application of Serums
Application of Creams and Moisturizers
Retinol Serum: In the evenings when preparing to use retinol, make sure your skin is completely clear of excess dirt and oils. After cleansing and toning, apply preferred serums onto face and wait for them to dry. After other serums have dried, apply 3-5 drops of retinol serum and massage onto face. Follow serum application with favorite anti-aging cream or moisturizer.
Retinol Cream: If using retinol in a cream or lotion form, follow same skincare routine – cleansing, toning, & serums – and then apply cream onto face using the 5 dot method, and leave on overnight. The 5 dot method entails applying one small dot onto each cheek, chin, forehead, and nose, and then massaging into skin using circular motions.
After using retinol, do not be alarmed if your skin experiences dryness, redness and peeling, as initial use of retinoids can cause these symptoms which is called facial retinization. These symptoms are normal – and expected – as it is the effect of retinol overworking to influence collagen synthesis, skin smoothing, and skin pigmentation evening. To ease your skin into retinol use, begin with applying retinol products one night a week, and then build up usage.
After your skin adjusts to retinol treatment, full results will take about 6-8 weeks to show. Remember, persistence is key! Continued use of retinol will lead to pore shrinking, scar and deep wrinkle deletion, skin firming and tightening, and leads to a reduction in dark circles.
Eve Hansen Retinol Products
Here at Eve Hansen, we are thrilled to introduce our newest retinol additions made with vegan, natural, and organic ingredients: Retinol Treatment Serum and Retinol Day Cream.
Retinol skincare is powerful and result-producing, and therefore we encourage all members of the Eve Hansen family to take advantage of these anti-wrinkle solutions. If you feel confident enough to add Retinol to your skin care routine, get started with our retinol treatment line. 
Click here to view our Retinol Day Cream 
Click Here to view our Retinol Treatment Serum