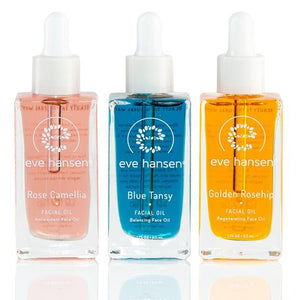 No more eeny, meeny, miny, moe – Picking the right face oil for your skin!
With so many products on the market today, it can be difficult to make an appropriate selection for our individual needs. Too often, we as consumers choose a product based on packaging and marketing rather than on what really counts: what does the product actually do?! How much do we really know about the products we use and whether or not their key ingredients are targeting issues we regularly face? SO manay questions….but no worries! We're here and we've got answers. 
First and foremost, it's important to do some research. Not all products and/or product ingredients are right for you. If you're looking to resolve a particular issue, there is probably an ingredient or list of ingredients that can specifically target that problem. Today, we'd like to focus on facial oils and how to pick the right product for our skin.
One of the most common misconceptions regarding facial oil is that it's exclusively for those with dry skin. Rather, whether your skin is dry, dehydrated, perfectly balanced, or overly oily and acne prone, using a facial oil can do a world of good. With the right facial oil, there's no need to worry about clogging pores or making skin look greasy because products that are appropriately formulated for your skin type should combat issues without getting in the way of your skin's overall health and well-being.
Yes, there is a facial oil that's right for you!
Blue Tansy:
Blue tansy oil is the ideal product for irritable and sensitive as well as acne and blemish prone skin types. This oil helps to balance skin's natural oil production while getting rid of excess oil on the face and minimizing the appearance of pores. A sister plant to chamomile, blue tansy is known for its soothing and skin-calming effects as well as for its antibacterial, antihistamine, and anti-inflammatory properties. Blue Tansy could be the right oil for you if you're looking to heal or soothe damaged, sunburned, inflamed or irritated skin.
Did you know that over-drying naturally oily skin can actually worsen problems? When oily skin looses moisture, it works to overproduce natural oils or sebum in order to compensate. Rather, oily skin types should be moisturized with a quality, balancing oil that helps to clarify. If you're looking to balance, moisturize and/or calm, Blue Tansy Oil may be the right choice for you.  

Rose Camelia:
When it comes to this super oil, it may be easier to ask what it doesn't do. Designed to restore radiance to a dull and dehydrated complexion, Rose Camellia is an antioxidant powerhouse that contains all the necessary ingredients to moisturize, tone, and help reverse the signs of damage. Camellia oil is rich in oleic acid, Omegas 3 and 6, and Vitamins A, B, D, and E. Omega-3 and Omega-6 fatty acids lead to smoother, more youthful looking skin and can visibly reduce redness and inflammation. Oleic acid is a moisturizing agent that stimulates skin's natural collagen production, improves elasticity and fights fine lines and wrinkles. Vitamin A is used to stimulate new cell synthesis and strengthen skin's natural lines of defense. Vitamin E deeply moisturizes and works to block free radicals and other environmental toxins which play a large part in the aging process. The combination of these powerful ingredients makes for an impressive, anti-aging oil that is especially effective for dry and easily irritated skin types.  
Golden Rosehip:
A blend of pure rosehip oil and other luxury botanical oils, golden rosehip face oil works to regenerate, rejuvenate, and reverse the appearance of age related damage. Where do we sign up? Golden Rosehip is an ultra lightweight moisturizing oil that quickly absorbs quickly into the skin, leaving behind only a healthy, glowing complexion. The foundaiton of this oil is rosehip seed oil which contains around 77% essential fatty acids that work to regenerate damaged skin tissue, speed up skin cell renewal, and reduce the appearance of hyperpigmentation, stretch marks, wrinkles, and fine lines.
Skin Oil Application tips:

Gently dab or pat oil into skin rather than rubbing into skin as you would a moisturizer. This application will lead to better absorption and product effectivness.

Use AM or PM. These products are best used during the day under your regular moisturizer and a good sunscreen or at night to replenish and restore.

Use only 1-3 drops. Our face oils are highly concentrated with nutrients so a little goes a long way!

Try our face oils as a primer before applying makeup. Wait for oil to be absorbed before applying daily foundation for a hydrated, natural glow!