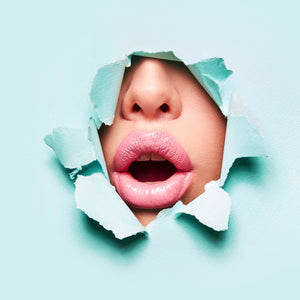 It's true. Many of us pay close attention to the products and treatments we use on our faces, hair and bodies. Too often, though, our lips are forgotten and are left feeling dry, cracked and neglected.
At Eve Hansen, we believe that lip care is an essential part one's self-care routine and that the right products can make all the difference in helping you look and feel your best. Did you know that your lips have a thinner layer of skin than that on the rest of your body? This causes lips to dry and lose moisture more rapidly. The delicate layers of skin on one's lips also increase vulnerability and susceptibility to damage as a result of climate and weather conditions.
 In addition to staying well hydrated and eating foods rich in vitamin B2 such as mushrooms, almonds, and green leafy vegetables, choosing the right lip product is essential to maintaining happy lips! The big question is: which products really work and what issues do they each target?
There are a wide variety of lip products on the market today and it could get overwhelming to filter through them and find the product that is right for you. Worry not! We've put together a short list/explanation of what you need to know!
Lip Balm: Lip balms are an important every day product to help keep lips moisturized and healthy. Regular use of balms helps smooth lips and prevent dryness and chapped lips. Generally, lip balms are colorless and can also be medicated to help relieve pain. Look for lip balms with natural moisturizers like coconut oil, aloe, and vitamin E. 
Lip Scrub: Lip scrubs are way to mechanically exfoliate and remove dead skin cells from lips. Properly exfoliating lips helps them to better absorb balms and protectants. Lip scrubs are usually formulated with an exfoliant and emollient (moisturizing agent). The emollient provides as soothing base for the exfoliant. Sugar is a common exfoliant used in lip products because it is effective enough to remove dead cells and flakes, but it gentle enough to not irritate the thin layer of skin on the lips. 
Lip Plumper: The volume of our lips tends to decrease over time as lips lose moisture and as our skin loses its tightness and elasticity. Natural lip plumpers contain ingredients like peppermint and cinnamon to produce a tingling sensation that temporarily plumps the lips and makes them appear fuller. Natural lip plumpers enhance your look without worry of toxic and harmful chemicals ending up in your body. These products also offer a wider range of benefits in addition to their volumizing abilities. Plumpers also moisturize and repair chapped lips, add a layer of shine and protection like lip gloss, and make lipsticks and stains last longer. Wear it under your favorite lip color and make the bold hues last all day!
Lip Color: Lip colors come in many different shapes and forms. There are lipsticks, lip stains, liquid lipsticks, and lip liners that all add color and enhance the appearance of one's lips. These lip products come in different finishes too – matte, glossy, or shimmery. Lip colors are the finishing touch of any complete makeup routine, and their beautiful shades paint over your lips to create a bold look.  Some lipsticks – especially those with a matte finish – may dry out your lips 


SHOP NOW
 Eve Hansen is please to introduce our custom Sugar Lip Scrub and Instant Hydration Lip Plumper.