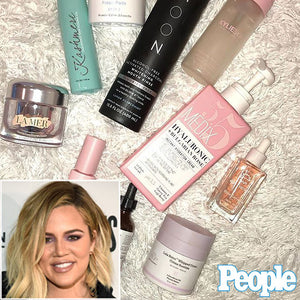 "Khloé [Kardashian] knows you don't have to drop hundreds of dollars to get high-quality skincare ingredients." Khloe Kardashian's skin care routine was the topic of discussion last week on People.com where we discovered that staples in Khloe's routine range from a $295 neck cream to Eve Hansen's very own ($24.99) Rose Camellia Face Oil! The reality TV star and entrepreneur posted a picture of her go-to skin care products on her Instagram story where more than half of the products posted were under $30. 
At Eve Hansen, we are dedicated to creating natural, trustworthy, and effective beauty solutions at an affordable price because we believe high quality skin care should be accessible to all. Because of this, we were thrilled to find out that she is a fan of our rose camellia face oil and that it is a part of her routine! In this blog, we want to take a look at the products in Khloe's routine and discuss the nourishing benefits of our rose camellia face oil. 
Products in Khloe's Routine:
- Eve Hansen Rose Camellia Facial Oil - $24.99
- Kashmere Kollection Luxurious Skin Toning Oil - $59.99
- Medix Hyaluronic Acid + Bulgarian Rose Instant Hydration Cream - $13.07
- Kylie Skin Foaming Face Wash - $24
- Kylie Skin Vitamin C Serum - $28
- La Mer Neck Cream - $295
- Moon Whitening Mouth Rinse - $8.99
- Drunk Elephant Lala Retro Whipped Cream - $60 
- Truskin Vitamin C Serum - $19.99
- CK Perfect Skin Fresh Pads - not available for purchase yet
Benefits or Rose Camellia Face Oil:
The unique blend of rose, camellia oleifera, squalane, argan, rosehip, jojoba, and other natural oils gives our luxe blend its nourishing and hydrating quality. Designed to restore radiance to a dull and dehydrated complexion, Rose Camellia is an antioxidant powerhouse that contains all the necessary ingredients to moisturize, tone, and help reverse the signs of age related damage. This oil blend is rich in oleic acid, Omegas 3 and 6, and Vitamins A, B, D, and E. Omega-3 and Omega-6 fatty acids lead to smoother, more youthful looking skin and can visibly reduce redness and inflammation. Oleic acid is a moisturizing agent that stimulates skin's natural collagen production, improves elasticity and fights fine lines and wrinkles. Vitamin A is used to stimulate new cell synthesis and strengthen skin's natural lines of defense. Vitamin E deeply moisturizes and works to block free radicals and other environmental toxins which play a large part in the aging process. The combination of these powerful ingredients makes for an impressive, anti-aging oil that is especially effective for dry and easily irritated skin types. 
Read the full People article here: