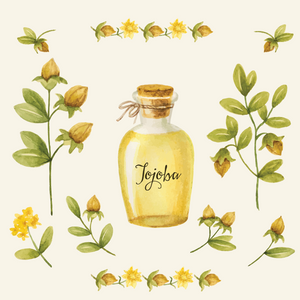 Scientific Name:  Simmondsia Chinensis
Benefits/History: Derived from the nut of the jojoba plant, jojoba oil is a gentle emollient moisturizer, that can be used on its own, or as a carrier oil for essential oil blends. With a unique composition of powerful fatty acids, and a nutty aroma, jojoba oil is treasured for being able to help treat a variety of hair, nail, and skin conditions including infections, wounds, and the visible signs of aging. 
Throughout history, jojoba oil has been used as a medicinal oil to treat many kinds of ailments. Today, jojoba's anti-inflammatory and moisturizing properties make it an effective healing oil for the most common issues - and a few drops go a long way in combating dryness, acne, and fungal infections! This oil is also rich in vitamin e - a natural anti aging ingredient - which gives jojoba its moisturizing abilities and helps to improve elasticity and combat sun damage, burns, inflammation, scars, dark spots, and wrinkles. Jojoba's lengthy shelf life makes it the ideal oil to use in DIY projects such as natural makeup removers, body butters, shampoos, lip balms, conditioners, and lotions!
Jojoba oil can also be used to promote hair health and thickening. Using jojoba on your hair provides protection against hair/scalp dryness, split ends, dandruff, and can even promote healthy hair growth by preventing dryness in hair follicles (which can lead to hair loss!). 
Skin Types: 
Those with dry skin can greatly benefit from jojoba's skin softening and moisturizing capabilities, as the oil penetrates dry patches to nourish skin and soften rough texture. Furthermore, because jojoba is so close in composition to our skin's natural sebum, this oil can also be an ideal moisturizer for oilier skin types! Non Comedogenic in nature, jojoba oil won't clog pores and can even regulate excess oil production by restoring optimal moisture to skin! 
Eve Hansen products that contain this ingredient:
Jojoba Oil
Vitamin C Moisturizer - Clean Essentials