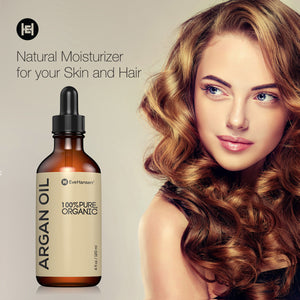 Tired of dry and cracking skin? Tired of chapped lips? Razor Burns? Dry and brittle hair? Derived from the fields of Morocco, Argan Oil is just the product to use! This nutty solution IS the solution for your unwanted beauty insecurities.
Rich in vitamins A and E, argan oil carries advanced moisturizing capabilities that can be used for just about any level of dryness, on just about any part of your body.
Massage drops of argan oil onto dry parts of skin, and watch it work wonders. Use it as a night-time moisturizer, or a daily whole body moisturizer. Argan oil can be used to fight dry and cracking skin on feet and heels, elbows, knees, lips, hands, and face. Just massage a couple drops of it onto affected areas.
Razor bumps and burns are undesirable, uncomfortable, and unfortunately – far too common. Use argan oil's moisture technology to rid your body of these bumps and burns. Place drops of argan oil into your hands and massage over problem areas. Do this regularly, and you will not be disappointed with the results!
Furthermore, argan oil does not just have to be used on your body. It is also a very effective treatment for your hair. Argan oil's non greasy texture makes it the perfect leave-in conditioner and styling product. It makes your hair softer, shinier, tamer, more voluminous, easier to style, and protected from heat, all while repairing its dryness and damage.
After moisturizing your body and hair, add a couple drops of argan oil into your foundation, bronzer, or highlighter to give your face a radiating glow when you apply makeup.
Argan oil's versatile nature makes it a must-have product!