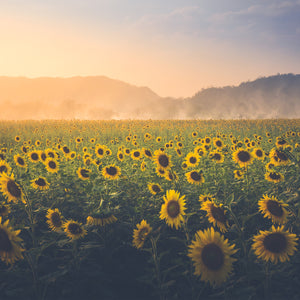 Scientific Name: Helianthus Annuus
Benefits/History: In addition to their beauty, Sunflowers bring a wide variety of skin benefits to the table. Since 3000 B.C., parts of the sunflower were used by American Indian tribes to help soothe snakebites and to condition hair and skin. Today, sunflower seed extract is used in many products because it is rich in Vitamin E, antioxidants & nutrients, and is an effective treatment to help combat acne, inflammation, irritation and redness. 
Being rich in Vitamin E, sunflower oil contains the antioxidants necessary to help protect skin from UV rays and other skin stressors. This oil also has emollient properties that help to trap moisture in skin cells, yielding long-term skin hydration.
Additionally rich in Vitamins A, D, and C – sunflower oil is effective in reducing the visibility of acne and protecting collagen and elastin in the skin. 
Skin Types:
Oily/Acne prone skin – This ingredient's chemical composition makes it an effectual treatment for those with oily/acne prone skin because the antioxidants and fatty acids present in sunflower extract help renew skin cells and equip skin to help rid acne-causing bacteria.
Dry skin – Those with dry skin can also benefit from sunflower oil because it has emollient and calming properties helps replenish and retain skin moisture, while regularly helping to remove dead cells and impurity.
Eve Hansen Products that Contain the Ingredient: