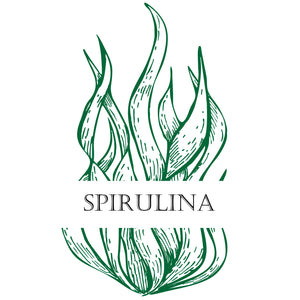 Scientific Name: Spirulina Maxima
Benefits/History: We get it - the thought of using 'algae' and 'skin care' in a sentence might make one feel a bit squeamish, but algae is so much more than the slimy stuff that we might accidentally step on at the beach. When used in skin care, algae is a powerful toning and detoxifying ingredient that may have remarkable effects on improving skin health and radiance. Additionally, algae contains many unique antioxidants and nutrients that work to deeply hydrate, protect, and renew the skin. The fatty acids in spirulina help decrease inflammation and its composition of proteins assist cell repair and growth. High levels of Vitamin E help to rid the skin of harmful radicals and make algae an effective anti-aging agent.
Skin Types: Spirulina Maxima's detoxifying characteristic makes it effective at combating acne by removing the harmful bacteria and toxins that may rest on the skin's surface, and clog pores. Because algae promotes cell turnover, this speeds up skin's natural healing process - making it beneficial for those with inflamed and congested complexions.The presence of chlorophyll in spirulina also helps reduce dark circles and pigmentation spots on the skin.
Eve Hansen Products that contain this ingredient:
Turmeric & Cranberry Seed Clay Mask