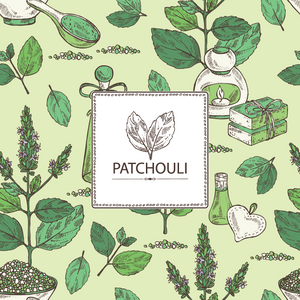 Scientific Name: Pogostemon Cablin Oil
Benefits/History:
Identified by its strong woodsy scent, patchouli oil has been used historically in several parts of Asia to treat wounds, various skin and hair problems, and venomous snake bites. The ancient romans used patchouli oil as an appetite stimulant, King Tut of ancient Egypt was buried with patchouli oil in his tomb and the oil was also used as a fabric fragrance in 19th century India.
In addition to its many historical uses, patchouli oil is now gaining recognition in the modern-day skin care space because it provides balance and order to skin, helps standardize sebum production, speeds up the healing of scars, and provides a desirable soothing effect.
Patchouli oil's natural astringent properties make it a favorite ingredient to use in anti-aging/cellulite prevention products. The oil aids in strengthening your muscle tone and keeps skin from sagging as it stimulates muscle and skin contractions. 
As an anti-inflammatory agent, patchouli oil is effective in alleviating external inflammation caused by wounds, allergic reactions, and various skin disorders including psoriasis and eczema. Additionally, patchouli oil speeds up cell regeneration, making it an ideal ingredient to treat acne scars.
Skin Types:
Patchouli oil speeds up the healing of irritated and dry skin as it calms skin conditions such as flaking, rashes, chapped skin, and eczema. The oil's ability to standardize sebum production also makes it an effective moisturizer for acne-prone and oily skin types as it won't clog pores. Moreover, patchouli is full of vitamins and antioxidants that tighten open pores and destroy acne causing bacteria.
Eve Hansen Products with This Ingredient: