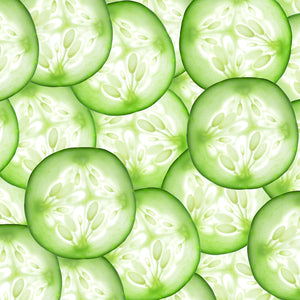 Scientific name: Cucumis sativus 
Benefits/History: This week's unlikely skin care hero: Cucumbers! Usually associated with salad, water, and dip, cucumbers are actually a skin care super food with significant reparative and anti aging benefits when incorporated into your daily products!
Cucumbers are composed of Vitamin C, proteins, lipids, and a variety of skin saving antioxidants and minerals. This ingredient is favored for its moisturizing, emollient, and desquamation properties (its ability to support your skin's natural outer layer shedding during cell turnover). The flesh of cucumbers contain ascorbic acid and caffeic acid – giving cucumbers their astringent properties and ability to soothe skin, help repair irritation, reduce puffiness and swelling, and boost skin's collagen production to combat the visible signs of aging. The proteins and lipids found in cucumbers are responsible for giving skin a lovely, smooth feel and finish.
Cucumber is used around the eyes because of its gentle nature and ability to fade dark circles and reduce puffy eyes. The soothing quality of cucumber has also shown to alleviate aggravated/sunburnt skin. 
Nonetheless, the most common topical use of cucumber is to tighten pores, improve the overall appearance of skin, and deeply rejuvenate/freshen tired skin.
Skin Types:  
Those with acne prone skin can greatly benefit from using cucumber skin care products because this ingredient contains silicia – a nutrient that replenishes the skin and tightly holds skin's connective tissue together. Cucumbers reduce the redness and swelling caused by breakouts, and are rich in Vitamin E that fights against acne and scar-causing free radicals.
Additionally, because of its gentle nature and soothing properties, products that contain cucumber are generally great to use on sensitive skin types.  
Eve Hansen Products that Contain this ingredient: