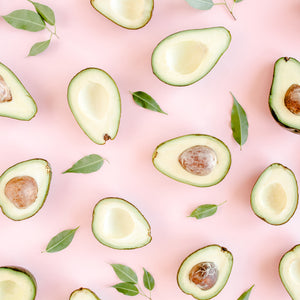 Scientific Name: Persea Gratissima Oil
Benefits/History:
As if guacamole and avocado toast weren't more than enough reasons to love avocados, the oil of this fruit is a powerful agent when used in skin care! Loaded with omega 3 fatty acids, and vitamins A, D, and E, avocado oil is a nourishing skin super-food with moisturizing, wound healing, and anti-aging benefits. Alongside these vitamins, avocado oil also contains potassium and lecithin. The epidermis – which is the outermost layer of the skin – seamlessly absorbs these vitamins and nutrients, helping to deeply hydrate the skin's layers and accelerate new skin cell regeneration. The presence of oleic acid in avocado oil helps promote collagen production in skin which helps diminish the appearance of wrinkles, fine lines, and skin wounds by creating connective tissue.
Skin Types:  
Avocado oil is especially effective for drier skin types because of its moisturizing properties. It helps hydrate dry, irritated and flaking skin, and has even shown to help heal the symptoms of eczema and psoriasis.
Oilier skin types can benefit from avocado oil because the ingredient keeps skin hydrated without leaving behind an oily residue – reducing the likelihood of clogged pores and flared breakouts. Additionally, avocado oil's anti-inflammatory effects also help reduce the irritation and redness associated with acne and blemish prone skin.
Eve Hansen Products that Contain this Ingredient: