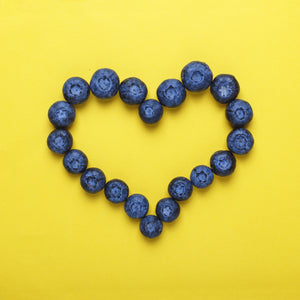 Scientific Name:  Vaccinium Angustifolium 

History/Benefits:
The blueberry: A tiny but mighty superfood that has incredible skin benefits. The antioxidants found in blueberries have significant anti-aging benefits as they work to reduce oxidative damage that has occured in the skin. Additionally, blueberries are rich in skin regenerating and reviving Vitamin A and Vitamin C. Blueberries also contain a hefty dose of vitamin k, manganese and phytonutrients that all work to reverse the effects of free radical damage. Incorporating these vitamins, along with the anti-inflammatory effects of blueberries, into your daily skin care routine will help to reduce the visibility of age spots, puffiness and sun damage. The vitamin C in blueberries helps promote a brighter and healthier complexion, while aiding in the reduction of wrinkles and fine lines. The Vitamin A in blueberries encourages skin clarity and firmness. Blueberries may also help to increase circulation - improving the look of dark spots and skin blotchiness while giving your skin a revived glow.  
Skin Types:
Although safe for all, blueberries have shown particularly amazing results for those with blemish/acne prone skin because of their high concentration of salicylates, which is the salt of salicylic acid - a favorite topical acne treatment. Furthermore, blueberries are a great skin clearing agent because of their ability to regulate hormones.
Eve Hansen Products that contain this ingredient: