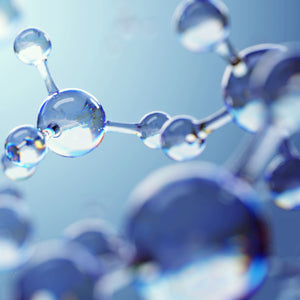 YOUNGER LOOKING SKIN WITH HYALURONIC ACID
Hyaluronic acid is a treasured tool in anti-aging skin care. One of the most important elements of youthful skin is its ability to hold water and hold a balanced volume of moisture. As we age, our skin loses its ability to retain moisture, and in turn, that results in the loss of firmness, plumpness, and elasticity. Hyaluronic acid attempts to reverse the signs of ageing with its ability to replenish moisture that is crucial to having more youthful looking, supple skin.  
In addition to deeply penetrating moisture, hyaluronic also helps to revitalize the skin's outer layers to feel and look softer, smoother, hydrated, and glowing. This increase in moisture and hydration will help improve the appearance of fine lines and wrinkles.
WHY IS HYALURONIC SO POWERFUL?
The power behind hyaluronic acid is in its superb ability to hold up to 1000 times its own weight in moisture. In other words, for every gram of hyaluronic acid – that's 6 liters of water. Not only is it able to retain this moisture, it has the ability to keep it in our skin to reduce dryness and dehydration. Furthermore, Hyaluronic acid is also found in our nerves and joints to keep them hydrated and healthy.
The daily application of this beauty weapon can help diminish the appearance of and fight against fine lines, wrinkles, and dark circles under the eyes. This ingredient penetrates the surface of your skin, sinks into the deeper layers, and begins to try to replenish and reverse the effects of weakened skin. Hyaluronic acid is an essential ingredient in the effective hydrating and moisturizing of one's skin. Regular use has shown to strengthen, lift, and condition the skin. 
MORE BENEFITS OF HYALURONIC
Hyaluronic acid is safe for all skin types, including: dry, oily, normal, acne prone, and combination. You can safely and confidently use any Hyolonic acid enriched lotion or cream on your face or on any part of your body. It is pure and very gentle, so even the most sensitive of skin types may use Hyaluronic acid without worry or concern.
On its own, hyuralonic acid can be used as a regular face cream, serum, or gel. Also, hyaluronic acid is perfect for prepping skin before makeup use for added moisture and a glow that can last up to all day long.
HOW TO INCORPORATE IT INTO YOUR DAILY ROUTINE?
Every effective skincare routine begins with an influential cleanser and toner. If you are using hyaluronic acid as a serum or gel, it is recommended to apply it after cleansing and toning.
If you are using hyloranic acid as a moisturizer / cream, apply it after cleansing, toning, and the application of serums. Creams and moisturizers should be the final step in a full skin care routine.
Shop Now
We are pleased to introduce Eve Hansen's newest Natural, Vegan, and Certified Organic Hyaluronic Acid products: Hyaluronic Acid Cream, and Hyaluronic Acid Complex Serum.