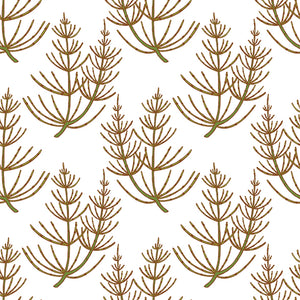 Scientific Name: Equisetum Arvense Extract
Benefits/History: Rich in many nutrients and minerals - including iron, silica, and manganese -  horsetail skin healing powers lie within its anti-inflammatory, antimicrobial, and antibacterial properties. Commonly used to combat skin ailments, burns, and rashes, horsetail's remedial qualities are a treasure to the anti-aging world!
Horsetail extract's most prominent anti aging benefit is its ability to support collagen production. This ingredient is rich in silica, a substance that plays a key role in collagen synthesis. Because the body's silica is lessened with aging and stress, adding products that contain horsetail extract in your regimen will improve the body's natural collagen production - combating the visible signs of aging like wrinkles and fine lines! Oxidative stress also causes aging in skin. As an antioxidant, horsetail counteracts oxidative damage by stabilizing free radicals - leading to strengthened skin cells that help to counteract aging at the cellular level. 
Skin Types: This extract's anti-inflammatory and antibacterial properties make it ideal for oily, irritated, and blemish/acne prone skin types. Horsetail's ability to reduce inflammation causes a reduction in redness, clogged pores, skin irritation, and skin conditions such as acne, rosacea, and eczema.   
Eve Hansen Products with this Ingredient: