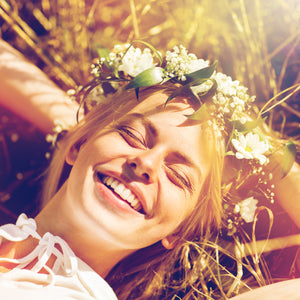 If you've ever shopped for anything "anti-aging", chances are, you are no stranger to the term collagen. From pills and creams to powders and protein shakes, collagen comes in many forms and can have a variety of benefits ranging from maintaining the integrity of one's joint function to better skin health. The role of collagen is important both for one's outward appearance and internal health. Unfortunately, our levels of natural collagen production tend to fade as we get older. So, how do we prevent collagen loss? Are there ways to simulate and re-stimulate its production? Read on for a detailed description of what collagen is, the different ways to incorporate it into your routine, and natural alternatives for boosting collagen production!
What is Collagen? 


Collagen is the most abundant protein in our body and is responsible for maintaining the connective structure of our bones, muscles, tendons, and skin. Collagen strengthens our skin and gives skin its elasticity and suppleness. As we age, the collagen protein strands in our skin weaken and eventually break - leading to the formation of wrinkles, lines, and cartilage problems. Additionally, aging results in the thinning of skin, and as the layers of our skin become thinner, the production of collagen slows. As we mature, collagen production decreases by approximately 1% every year. 
Ingestible Collagen


Edible collagen is everywhere these days and can now be found in gummies, creamers, protein powder, and pills. While you may love your supplements, it takes time for your body to break collagen down into its component parts and remake it before being properly delivered to your skin. Collagen's molecular weight is much too large to be quickly absorbed by the skin as is.
Topical Collagen 


Another popular method of using collagen is topical application. However, despite marketing claims, studies have shown that all topical collagen really does is moisturize the skin. So, this must mean that all topical treatments won't help boost collagen right? Wrong! Topical collagen might be ineffective, but there are ingredients and topical products that, when absorbed into the skin, help naturally stimulate the body's collagen synthesis. Dermatologist-favorite ingredients such as vitamin C and retinol have shown to stimulate new collagen production in the dermal layer of the skin - leading to a reduction in the appearance of skin sagging and deep lines while also leading to a firmer and clearer complexion. Topical treatments are not only a great way to increase collagen synthesis, but also preserve and protect the skin from losing collagen.


Collagen Injections


Collagen injections have been used for decades to treat fine lines, wrinkles, creases, acne scars and crow's feet. These injections help to smooth facial wrinkles and scarring by supplementing and replenishing the skin's natural collagen. Before collagen injections are administered, a skin test is performed by your doctor. Typically, collagen injections are used as a repair mechanism rather than an enhancement agent. 


Natural Ways to Boost Collagen 


In addition to the three methods for increasing collagen we mentioned, there are natural alternatives for supporting your body's collagen levels. Diet is a big part of keeping skin healthy! Eating foods that are rich in sulfur such as beans, garlic and cabbage aids the formation of collagen and helps maintain the skin's natural pigmentation. Foods rich in vitamin c - including spinach, kiwi, goji berries and broccoli - also support collagen formation and work to reduce oxidative damage. Cutting out sugar and smoking are also great ways to reverse and prevent the signs of aging as they kill off collagen - leaving skin dull, dry, and wrinkled. Another natural method to protect collagen in the skin is to stay hydrated! Keeping the skin hydrated provides collagen and elastin with an environment in which they may thrive!