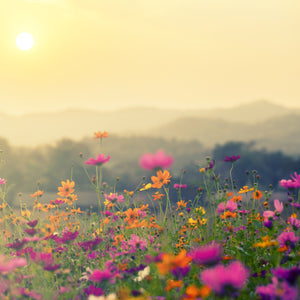 With an overwhelming number of products on the market, it can become exhausting to filter through the masses to find the right products for your skin.  Furthermore, figuring out which products are appropriate for use in the morning and which are better suited for the evening can add a layer of difficulty. Is it really necessary to have different routines and to use different products for morning and night? Certainly, amid our busy schedules and daily stressors, using the same products morning and night can seem like a simpler and more convenient option than crafting two daily regimens.
Let's take a closer look! 
AM Routine
The focus of daytime skin care should be protection as skin can be stressed and easily irritated throughout the day. As our skin is exposed to oil, dirt, airborne pollutants, bacteria, UV rays, and makeup during our waking hours – we are opening ourselves us to an array of possible damage. 
For your morning routine, select products that will shield and prep your skin to battle the challenges of the day. The stressors our skin faces every day can wear on our skin cells and decrease our levels of natural collagen production. 
With skin protection in mind, start with a mild, yet effective cleanser that will gently strip your skin of the overnight oil buildup. We also want to cleanse any excess residue left behind from overnight products. The aim of a morning cleanser should be to unclog pores and eliminate excess oil.
Often an overlooked step in one's morning routine, a good toner can help to unclog pores and remove residue left behind by a cleanser. Regular use of a high quality toner will prepare skin to better absorb the products used in the steps to follow. 
After cleansing and toning, apply an antioxidant-rich serum packed with active ingredients – such as vitamin c serum – to deeply penetrate the skin and reverse existing signs of damage. Such a serum can also help to protect our skin against the damaging elements we may encounter throughout the day.
Did you know that thinnest skin on our face, the skin around our eyes, is also most susceptible to damage throughout the day? Because of this, it is important to add a reparative eye gel or serum to hydrate and protect this delicate area. 
To top it all off, use a lightweight moisturizer with SPF (you may also add sun protection separately) to leave skin hydrated with a necessary layer of protection from powerful UV rays.
PM Routine
Nighttime is when our skin has a opportunity to recover from everything we put it through throughout the day. An evening regimen should focus on nourishment with healing and restorative ingredients at the helm.
To start, deep cleansing and nourishment is key. It's particularly important to feed your skin with the unique ingredients that will appropriately target your specific skin care needs. 
Incorporating a gentle exfoliating cleanser into your PM routine is best as it will break away layers of dead skin cells – leaving a smoother and brighter complexion that's ready for overnight nourishment!
At night, serum is particularly important step since this is when our skin is most receptive to its benefits. Evening is the perfect time to add an anti-aging serum because it will enhance skin's natural and nightly reparative process. Of course, you may use the same serums morning and night, but beware! Certain products are better for day or night. For example, Retinol serums can be powerful and effective when used correctly. A retinol serum, however, is recommended for night use only as they may increase the risk of damage from UV exposure when used during the day. Since retinol may be drying, we also recommend incorporating a hyaluronic serum to help lock in moisture and keep skin hydrated and balanced.
Conclude your evening routine with a moisturizer that will help with overnight repair. We suggest rich moisturizers that are capable of deeply penetrating skin to prepare it for another day on the go. Key, naturally rejuvenating ingredients to look for are vitamin A, vitamin C, and emollients such as vitamin e, jojoba oil, and organic shea.
Weekly Add-ins
Although your morning and evening routines should be practiced daily, using a face mask can be a fun boost of essential nutrients. Depending on your skin type, masks can be done anywhere from 1-4 times a week. We love alternating between sheet, clay, and gel masks depending on the issues we wish to target or benefits we hope to achieve. 
With this information, what do you think? Will you start using different products to suit your morning and nighttime skin care routines? With different goals in mind for AM vs. PM, we think it's important to incorporate targeted products accordingly!