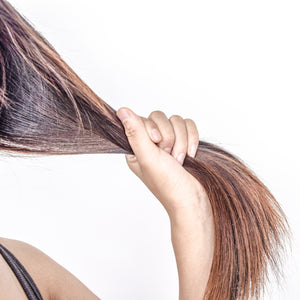 Whether we spend hours combing through Pinterest for new hairstyle ideas or prefer to stick to the basics, who doesn't dream of soft, shiny hair? Many of us are also familiar with this feeling: you invest in countless moisturizing shampoos, sprays and products only to end up with your 'do' looking exactly the same. SO disappointing!

Sometimes, no matter how hard we try, hair is left feeling dry, damaged, and brittle. Styling and color treatments can propel the cycle onwards…exacerbating the problem and leaving us perplexed, frustrated and with less than healthy hair. At Eve Hansen, we believe that health is the foundation of beauty and we're here to help you lay that foundation!

Before you can start treating dry hair, it's important to understand what's causing the problem in the first place. We know that some styling tools and products can cause damage, but the shampoos we use in the shower and how we wash our hair can also lead to perpetually parched locks, leaving our hair and scalp stripped of essential natural oils. While too much natural oil can make hair look greasy and limp, we need that healthy balance.

A healthy amount of oil is needed to lock moisture into the scalp, preventing breakage and smoothing the strands of the hair. We suggest integrating essential oil treatments into your regular hair care routine to achieve this healthy balance and create a naturally lustrous look. Applying oil to wet hair allows the oil to spread more evenly and absorb better, but, depending on the oil, applying a few drops to dry hair makes for a softer and smoother finish after styling. Each of these oils can be applied directly to damp or dry hair, or added into your regular shampoo and conditioner with just a few drops!

1. Argan Oil
Argan oil is a hair care favorite for many reasons. Primarily, it is an antioxidant powerhouse that is also rich in omage-6 fatty acids, linoleic acid, and vitamins A, C, and E. Argan oil's chemical composition makes it an ideal oil to help penetrate hair follicles and boost cell production. This protects against cellular damage. Not only will argan oil moisturize, nourish, and add a layer of heat protection, it will also work to address brittle and frizzy hair while leaving it manageable for styling.
2. Jojoba Oil
What makes jojoba oil special is that its molecular composition makes it very similar to the oil produced by our scalp. This oil – called sebum – is the barrier that protects hair from moisture loss. Jojoba oil is ideal for all hair types and is especially useful for combating moisture depleted hair and split ends. Incorporate jojoba oil into your hair care routine by massaging it into your scalp and brushing it through hair to hydrate those thirsty locks. Depending on your treatment needs, leave oil on hair for anywhere between 30 minutes to overnight. Rinse off when done! You can even apply leftover oil to your skin for added moisture!
3. Castor Oil
Despite being known for its hair growth stimulating abilities, castor oil also supports the keratin in hair – making hair stronger, smoother and healthier. Due to a strong presence of Vitamin E, minerals, and vital proteins, castor oil conditions and moisturizes hair while preventing split ends, controlling hair loss and fighting off dandruff.  Massage castor oil into scalp and disperse evenly through hair.
/>

4. Pomegranate Oil
Pomegranate oil not only acts as an excellent moisturizer, but it plays a key role in rejuvenating and reviving damaged hair. Pomegranate oil is a rich source of vitamin C, which hydrates and strengthens the connective tissue between hair follicles to stimulate natural hair growth. In addition, pomegranate oil restores shine, shields hair against environmental pollutants and works to keep hair in its healthiest condition.
5. Almond Oil
Almond oil is a powerful source of Vitamin E and hydrates hair to help regain lost moisture. We love almond oil because it doesn't leave a sticky residue and leaves our hair healthy and shiny all-day long. Almond oil is especially effective on thin hair because of its light weight. A powerful, natural conditioning oil that doesn't weigh our hair down? Yes please!