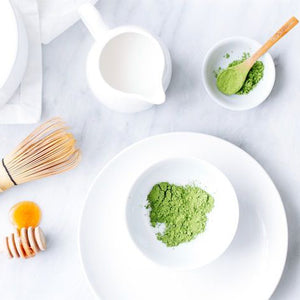 These days, it seems as though everything comes in a Matcha or green tea flavor, but is this ingredient craze worth the hype? The answer is YES! Green tea is an antioxidant POWERHOUSE that can have an incredible impact on your overall health as well as on the look and feel of your skin and hair. 
Green tea has long been celebrated around the world for its health benefits and is our favorite go-to drink for when we want to relax and detox. While many of us know that ingesting a few cups of green tea daily can provide fundamental nutrients and antioxidants, green tea can be equally as beneficial when applied topically.
Historically, green tea has been used as an anti-inflammatory and medicinal agent. Benefits are known to include bleeding control, wound healing, and improved heart and digestive health. Without a doubt, green tea is a fantastic natural healing agent in addition to its fabulous skin restorative properties that include anti aging benefits and control of excess oil production.
The most effective way to harness green tea's benefits for the skin is to look for the ingredient as an extract in your selection of beauty products. In this blog, we'll reveal some our favorite green tea for skin health benefits and how to best incorporate this valuable ingredient into your daily skin care regimen. 
Reduce Dark Circles and Eye Puffiness 


The antioxidants and tannins found in green tea are a way to reduce the look of dark circles and puffy eyes. Because of its astringent and anti-inflammatory properties, green tea alleviates these conditions by improving blood flow and shrinking blood vessels below the delicate surface of the skin around the eye area for a longer-term reduction in swelling.
Slow the Visible Signs of Aging


One of our favorite green tea benefits is its ability to help maintain a youthful complexion. Green tea helps to fight against skin cell-damaging free radicals and offers protection against enzymes that cause the breakdown of collagen and elastin – the proteins in our skin that help it stay supple, smooth, and wrinkle-free! Catechins are a type of the polyphenol found in green tea that can slow the breakdown of collagen and elastin. Look for an anti aging cream and anti aging serums that contain green tea for an added boost of age defying treatment.
Unclog Pores and Clear Up Skin 


As an antibacterial agent, green tea is used in skin care as a powerful treatment for shrinking the appearance of pore size and acne. Polyphenols found in green tea damage bacterial membranes and combat infection at the cellular level. In other words – green tea helps to kill off bacterial growth that clogs pores, causes inflammation, irritation and acne. The reduction of bacterial growth in skin will lead to a smoother and more evenly toned complexion.
Soothe Sun Damaged Skin


Even with the most dedicated and consistent sun care routine, it is almost impossible not to soak up some UV damage throughout a typical day. Sun exposure is one of the leading causes of premature aging as it accelerates the visibility of wrinkles, uneven pigmentation, sagging skin, and brown spots. Green tea can help with this, too! As a defensive agent, green tea can block and delay the effects of the damaging UV rays and strengthens skin's ability to cope with sun exposure.
Eve Hansen Products That Contain Green Tea: