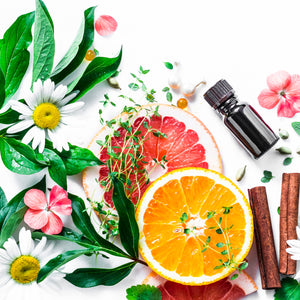 While everyone loves to be pampered, not all of us have the luxury of getting a professional weekly facial. If you're just looking for great skin, though, you don't have to! Many of the ingredients needed for healthy and glowing skin can be found right in your refrigerator – Tomatoes, Lemons, and Strawberries – Oh My! 
At Eve Hansen, we love that the earth so beautifully and naturally provides us with many of the things that we need. In fact, natural ingredients have been effectively used in medicine, beauty, and wellness treatments for centuries! Using fruit, vegetables, and other natural extracts on our bodies can help us to stay healthy while deeply connecting us with nature. No harsh ingredients or damaging chemicals, either!!
Read on for a few of our favorite skin treatments and DIY masks that go straight from fridge to face!
Pineapple Age Spot Mask
If you're battling sun damage, age spots, and skin blotchiness, a tropical pineapple and coconut milk mask is the answer! The combination of these two ingredients makes a natural AHA face mask that will work to reduce the appearance of spots and fine lines, while leaving behind a fresh glow!
Baking Soda Exfoliating Mask
Although placing baking soda in your fridge to keep your produce fresh is a great life hack, this fridge freshener also makes a great exfoliant when applied to the skin.
Cucumbers 
Safe for even the most sensitive skin types, a couple of cold cucumber slices will soothe puffy eyelids and eye bags, tighten pores, cool irritated skin, and hydrate dry skin.
Brightening Strawberry Scrub 
One of our favorite ways to glow and remove dead skin is by combining 4 mashed strawberries, ¾ cup of brown sugar, and ¼ cup sweet almond oil. Mix together and massage onto face and body before a shower.
Tomatoes
Rich in potassium, Vitamin A, and Vitamin C, tomatoes nourish, regenerate skin cells, and help lighten dark spots. Rub a slice of tomato underneath your eyes, leave on for a few minutes, and wash off.
Avocado Moisture Mask
Talk about fridge to face – this avocado mask only requires one ingredient: an avocado! Rich in fatty acids, vitamins and minerals, avocados can deliver intense hydration to skin. Mash a ripe avocado and spread it onto your face, hands, and other dry areas. Wait 15 minutes for the fruit to penetrate the skin and then rinse off.
Redness Reducing Green Tea Mask
Combining 1 TSP matcha green tea powder, ½ TSP coconut oil, and ½ TSP water is a great treatment to help reduce redness and inflammation. Mix ingredients until solution is smooth, apply to face and rinse after 15 minutes. Antioxidant-rich green tea soothes acne, sun damage, and inflammation while coconut oil will act as an antiseptic and moisturize the skin.
Lemons
Especially helpful for acne and oilier skin types, rubbing a slice of lemon or other citrus fruit on your skin is a great way to cleanse, tighten up pores, and bring out a natural glow. Continued use of lemon flesh or diluted lemon essential oil on the face will help reduce the appearance of dark spots and acne scars. Just remember to wash off in 5 minutes as citrus fruits cause photosensitivity!