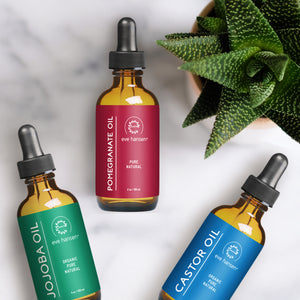 1. Pomegranate Oil
Pomegranates are a delicious and nutritious addition to our fruit tables and baskets, but are we taking advantage of their full benefits? Pomegranate essential oil is an antioxidant powerhouse that improves skin texture and reduces the signs of aging. This skin oil stimulates keratinocytes to help reverse skin damage, rejuvenate tired skin, and reveal a more youthful complexion. The topical use of pomegranate face oil encourages collagen production to fight wrinkles and fine lines, helps in the firming of skin, and leads to facial nourishment and renewal. Pomegranate oil possesses an anti-inflammatory nature and therefore provides a soothing and hydrating support for red, irritated, and sunburned skin, and also aids in relief from skin conditions such as eczema and psoriasis. Use pomegranate oil as a massage oil and inside aromatherapy oil blends to reduce muscle inflammation and soothe irritated skin. 
In addition to is skincare benefits, pomegranate seed oil is also a brilliant treatment oil for hair.  The same restorative and revitalizing benefits it provides for the skin can also be transferred to hair. The Vitamin C found in Pomegranate anti aging oil is essential for hair health because Vitamin C strengthens the connective tissue between hair follicles to stimulate healthy and natural hair growth. Pomegranate lotion oil also is an effective hair detangler, moisturizer, and shine enhancer.
Click Here to view Eve Hansen's Natural and Pure Pomegranate Seed Oil.
2. Jojoba Oil 
Jojoba Oil's unique formulation of essential vitamins, nutrients, and fatty acids make it a superior moisturizer and healer oil. Throughout history, jojoba oil has been used as a medicinal oil to treat many kinds of skin ailments, but in today's day and age, it is commonly used as a dry skin moisturizer for skin repair, stimulates hair and nail growth, moisturizes dry cuticles and hair, hydrates cracked skin, reduces the appearance of wrinkles, and unblocks hair follicles to encourage hair regrowth.
Jojoba oil promotes skin therapy and health because of its anti-bacterial, anti-inflammatory, and noncomedogenic properties. It does not clog pores, and even goes a step further to protect skin and work as a cleanser. Jojoba is rich in iodine which fights bacteria growth leading to break outs, and is rich in vitamin E – a natural anti aging oil ingredient – which gives the oil its moisturizing abilities to fight sun damage, burns, inflammation, scars, and wrinkles, and to increase skin elasticity, hair hydration and thickening.
Additionally, jojoba oil has an extremely long shelf life which ensures you get your money's worth and makes it the ideal product to use in DIY projects such as body butters, shampoos, lip balms, conditioners, and lotions. 
Click Here to view Eve Hansen's Natural Jojoba Oil.
3. Castor Oil
Castor Oil has been a treasured oil for centuries because of its lengthy list of beauty and health benefits, but the first three words that come to mind when thinking about castor oil are: HAIR HAIR and HAIR! In recent years, castor oil has gained a significant amount of popularity because of its hair growth – and regrowth – results. Castor oil is being used to treat dandruff, hair loss, and hair thinning. Furthermore, castor oil is now commonly used to stimulate the growth of thicker and healthier eyelashes and eyebrows!
Despite its jaw dropping hair benefits, castor skin oil is also fantastic for every day skin, digestive, and immune system health. Castro oil helps stimulate production of healthy levels of lymphocytes. The lymphatic system impacts the digestive and circulatory systems which is why castor oil is beneficial for heart health, detoxing your body from toxins, and fighting constipation. Use this healing oil to treat fungal infections, relive muscle soreness, joint pain, sties, migraines, yeast infections, constipation, bodily inflammation, and more. Castor oil usage for skin care leads to the treatment of many skin impurities such as acne, warts, sunburns, skin abrasions, athletes foot, and skin tags.
As if all of these amazing benefits were not enough, castor oil also works similarly to coconut oil as a skin moisturizer and skin hydrator. It penetrates deep into the skin to combat bacteria, soothe irritation, and add a rejuvenated glow.
So, what are you waiting for?
Click Here to view Eve Hansen's organic, natural, and cold pressed Castor Oil treatment.