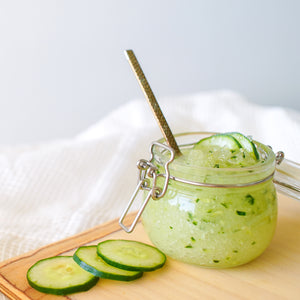 As temperatures skyrocket, nothing says summer quite like an exfoliating sugar scrub! Sugar scrubs are a perfect addition to a summer self-care ritual and have a few key benefits over a salt scrub. Sugar particles are gentler on the skin than salt – which can cause microscopic skin lacerations if rubbed on too harshly – and sugar is just as effective at exfoliating dead skin cell build-up. Secondly, sugar's humectant properties hydrate and does not strip skin of its natural oils.
Moisture and exfoliation? Yes, please!
In this post, we will be sharing with you a DIY scrub to keep skin smooth and soft during the summer. 
One of our favorite DIY body scrubs is a cucumber mint and peppermint essential oil sugar scrub. It exfoliates, moisturizes, smells fantastic, and can be made using 5 simple pantry products!
To get started, you'll need:
Glass Jar

¼ a cucumber unpeeled

¾ cup white sugar

2 tbsp of softened coconut oil

8-10 drops of peppermint essential oil
Instructions:
Puree cucumber until cucumber skin is in small flecks.

Add in sugar and coconut oil

Mix until oil is fully absorbed

Add in drops of peppermint oil

Stir scrub to distribute oil

Place scrub in an air-tight container

Store in the refrigerator

Use, wash off, and enjoy your skin!
In addition to exfoliation, the other ingredients in this scrub also have phenomenal benefits for the skin on their own.  
Coconut Oil: When discussing coconut oil, the better question would be what doesn't it do? Coconut oil's versatile nature makes it a must-have in any home. From cooking to hair masks to body scrubs, coconut oil does it all! Using coconut oil as a carrier oil in this scrub in no way takes away from its skin healing and repairing characteristics. Coconut oil is used in many natural beauty products because of its antibacterial, anti-fungal, reparative, and superior moisturizing benefits.
Peppermint Oil: Known for its refreshing and invigorating scent, peppermint oil is the ingredient that ties this scrub together by putting the user in a fresh summery mood. Essential oils are used for their aromatic and therapeutic benefits. In addition to smelling fantastic, peppermint oil in aromatherapy boosts energy and antibacterial defense, brings clarity and mental focus, suppresses headaches, relieves stress, helps clear sinus congestion, and loosens sore muscles. Peppermint makes this DIY body scrub the ideal de-stressor after a long day, or the perfect 'wake me up' scrub to start the mornings off right. 
Cucumbers: Full of antioxidants, anti-inflammatory, cooling, soothing… need we say more? The flesh of a cucumber contains ascorbic acid (vitamin c) and caffeic acid. When applied topically, these contents soothe the skin, help repair skin irritation and reduce swelling. Also, on top of being hydrating, nourishing, and containing astringent properties, cucumbers have the same pH as the skin so they help restore the protective acid mantle.
Happy Scrubbing!