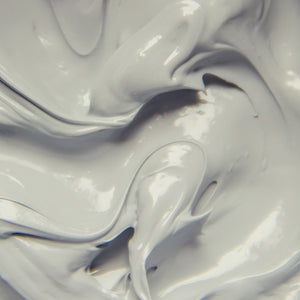 Scientific Name: Maris Limus Extract
Benefits/History: Maris Limus, the mud that comes from Israel's renowned Dead Sea is a historical wellness favorite, and its skin benefits can be attributed to its unique composition of essential minerals and vitamins. Historically, dead sea mud has been used to treat health conditions, including back pain and psoriasis, by its anti-inflammatory and pain relieving properties. More recently, dead sea mud's properties are being utilized in skin care to combat various skin impurities and conditions. The magnesium and salt found in dead sea mud has shown to strengthen the skin's barrier, and improve skin functionality and elasticity. Dead sea mud has a superior cleansing and purifying capacity - enabling the ingredients to pull out toxins, oils, and dirt found in skin. In addition to detoxing and relieving skin inflammation, the minerals found in Dead Sea mud also leave skin hydrated and dramatically reduce roughness/flaking.
Skin Types: The versatility of dead sea mud makes it an ideal ingredient for all skin types. Those with acne-prone skin type scan benefit from the mud's antimicrobial effects, as it can stunt and remove bacteria growth in skin that is responsible for flaring breakouts. Dead Sea mud's skin soothing and moisturizing properties make it beneficial for our dry-skinned friends as well!
*As with any ingredient, a patch test is always recommended to test for sensitivity and your skin's compatibility with specific ingredients.
Eve Hansen Products that contain this Ingredient: