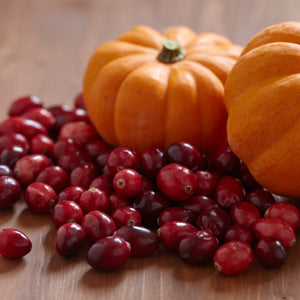 With Thanksgiving nearly upon us, we would like to take the opportunity to rave about an unlikely skin care hero: the cranberry! In addition to it being a staple dish on a standard Thanksgiving table, cranberries also have stellar skin care benefits that will noticeably improve one's complexion. Known as a gentle exfoliant and an antioxidant powerhouse, cranberries are a uniquely effective anti-aging and skin reparative agent.
In this blog post, we will discuss the power behind a cranberry seed and our favorite ways of incorporating this spectacular ingredient into our self-care regimens. In addition to their effectiveness in working towards healthy and glowing skin, Cranberries add a fun and festive twist to our everyday routines.
Happy Thanksgiving!
Benefits of Cranberries
These beautiful deep red berries are found in skin care in either extract, oil or full seed form – all of which are extremely effective in delivering the fruit's many benefits. Cranberries are antioxidant-rich and loaded with polyphenols. The topical use of cranberries enables the antioxidants found within them to help combat free radicals and slow the appearance of the effects of premature aging, the formation of fine lines and wrinkles, and the breakdown of collagen. Cranberries also contain natural acids that help prevent the clogging of pores.
In addition to its impressive content of antioxidants, cranberries are high in Vitamin A, Vitamin C, Vitamin E and essential fatty acids.  
- Vitamin A: This vitamin is known for its anti-aging, anti-inflammatory and skin regenerating properties - making cranberries suitable for those with acne and blemish prone skin.
- Vitamin E: The presence of Vitamin E in cranberries helps fight free radicals, protect skin from UV damage, and helps lock in moisture by strengthening the skin's barrier system.
- Vitamin C: Cranberries' vitamin c content makes it an effective treatment to help fade the appearance of hyper-pigmentation and acne scars & marks when incorporated into skin care products.
- Essential Fatty Acids: Essential fatty acids including omega 3 and 6 are necessary for radiant and elastic skin, and have also shown to lessen the symptoms associated with eczema. What's unique about the fatty acids found in cranberry seed oil is that there is a natural balance between the omega 3s and omega 6s – a perfect one-to-one ratio. This balance makes the oil more easily absorbent into the skin, maximizing its benefits.
Our Favorite Cranberry Masks
DIY Cranberry and Frankincense Facial Scrub
Antioxidant packed for glowing results, this DIY scrub is one of our favorites for weekly exfoliation with an anti aging boost!
What you'll Need: 
¼ Cup of Cranberries

2 Tablespoons Brown Sugar (exfoliation!)

2 Tablespoons Sweet Almond Oil

1 Tablespoon Ground Cinnamon (cell regenerating)

3-4 Drops Frankincense essential oil (excellent for controlling oil & treating scars!)
Place cranberries into a food processor until they are as smooth as possible and transfer puree into a bowl. Mix in remaining ingredients. Gently massage mixture into wet skin and allow it to sit for 5-10 minutes. Rinse well, pay dry, and finish with a moisturizer!
DIY Cranberry and Orange Polishing Mask
This mask is a favorite for skin brightening and polishing. The addition of oranges brings a fresh burst of antioxidants and citric acids which also aids in exfoliation, deep pore cleansing, and helps dry out acne.  
What You'll Need: 
1 Cup of Cranberries

Juice of 1 Orange 
2 tbsp Old Fashioned Oats 
Blend all ingredients together to resemble wet sand. Massage mixture into skin using upward circular motions. Rinse well with warm water and finish with serums and moisturizer.
Eve Hansen's Turmeric and Cranberry Face Mask
Our gentle exfoliating and skin purifying clay mask includes cranberries in their seed form for effectively removing dead skin while supplying skin with anti aging nourishment. Cranberries combined with detoxifying clay and anti-inflammatory turmeric makes for a powerfully skin rejuvenating product!
What you'll need: 
1 Jar of Eve Hansen's Turmeric and Cranberry Seeds Clay Mask
Apply mask to clean skin, avoiding the eye area. Once the mask has dried, rinse well with lukewarm water. Pat dry and follow with serums and moisturizer!