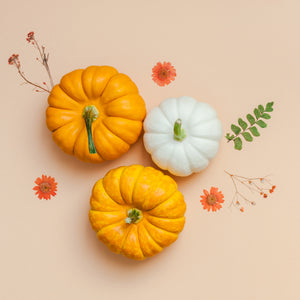 In the season of pumpkin spice, ignoring pumpkins is impossible!  And if you can't run from it, embrace it! Pumpkins aren't just for carving, patches, and pie. Already known as a superfood, using pumpkins in your skin care has some glowing and nourishing benefits! Full of essential vitamins, AHAs and enzymes, pumpkins help boost cell turnover, leading to smoother and brighter looking skin. Because the chillier seasons can really strip skin's natural luster, pumpkin will become your go-to ingredient to restore a glowy complexion while embracing the season's spirit!
In this blog post, we will be discussing pumpkin's benefits for the skin and our fall favorite pumpkin DIY masks and scrubs!
Benefits of Using Pumpkin on Skin
Pumpkin is an effective natural treatment in improving skin tone and appearance. The presence of alpha-carotene, beta-carotene, and other carotenoids in the vividly orange pulp of pumpkins helps defend skin cells against oxidative damage. A healthy intake of these carotenoids has shown to help strengthen and protect skin cells from free radical damage. Free radicals from environmental stressors and pollutants break down the connective collagen and elastin in skin that holds our skin together. The breakdown of these components leads to wrinkles and the visible signs of aging on the skin. 
Pumpkins are a fantastic source of vitamin C – and we all know the unmatched benefits of vitamin c for the skin (if not, see this blog post on all things vitamin c!). In short, vitamin c helps promote the production of collagen and elastin – leading to a clearer, firmer, and glowing skin.
In addition to vitamin c, the natural chemical composition of pumpkins also consists of other anti-aging superstars including: vitamin A, Vitamin E, Vitamin K, and most of the B vitamins.
Pumpkin improves skin cell turnover – leading to bright and glowy skin. This is because of the Alpha hydroxy acids in pumpkin which also exfoliate your skin.
A few more benefits of pumpkin include:
Helping to maintain the natural sebum on your skin, necessary for skin protection

Pumpkin's tiny molecules better penetrate the skin

Being a natural source of zinc – which is helpful for skin healing and soothing acne
Fall-Favorite Pumpkin Recipes
Pumpkin and Kaolin Clay Mask
You'll Need:
- 1 tablespoon organic pumpkin
- 1 tablespoon kaolin clay
- ½ TBSP Argan oil (jojoba oil works too!)
- 1 drop clove essential oil
Mix pumpkin puree and kaolin clay together in a small bowl, mix in the argan oil and clove essential oil, and then stir mixture. Spread onto the face with clean fingers, rinse well after 10-15 minutes, and follow with your favorite moisturizer. Enjoy the brightening effects of pumpkin, detoxifying properties of kaolin, and moisturizing quality of argan!
Pumpkin and Oatmeal Moisture Mask 
You'll Need:
- 2 TBSP canned pumpkin puree
- 1 TSP jojoba oil
- 1 TBSP plain oatmeal (best if blended for a finer texture)
- ½ TSP pumpkin pie spice
Combine ingredients in a bowl and mix together. Apply and leave on for 10 – 15 and rinse with warm water. Oatmeal is a humectant that helps skin retain moisture. Combined with pumpkin's benefits, this moisture mask will not only brighten skin, but add a dewy glow as well!
Pumpkin Spice Sugar Scrub
You'll Need:
- ½ Cup Organic Sugar (you may also use brown sugar)
- 1 ½ TBSP Sweet Almond Oil
- ½ TSP pumpkin pie spice
- ½ TSP vanilla extract
- ¼ cup pumpkin puree
Mix ingredients together in a bowl and then ENJOY! You may use this as a body scrub or even as an exfoliating face scrub/mask The heavenly scent is just a bonus!
Happy Masking!