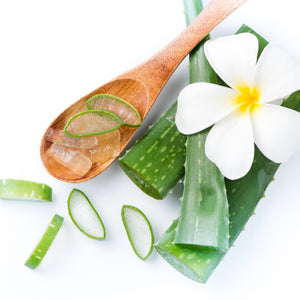 The scene may be familiar: long, cheerful days of summer, soaking up the sun and splashing in the waves without a care in the world. Of course, those beautiful afternoons at the beach may also well aquatint us will the soothing and healing properties of Aloe. Certainly, the product is a staple in any beachgoer's medicine cabinet.

What's more, though, is that one doesn't have to be in need of relief from a sunburn in order to benefit from the capabilities of this mighty plant.  Indeed, integrating Aloe vera into your skincare routine can have a truly transformative impact.

A cactus plant belonging to the Liliacea family, Aloe vera has been used medicinally for centuries. The therapeutic benefits of Aloe have been long identified, tested, and used by many. In fact, ancient Egyptians once labeled Aloe Vera the "Plant of Immortality" as a result of its many medicinal and topical benefits. Thousands of years later, we can surely attest that the ancients were onto something extraordinary.

Tired of puffy eyes, frustrating scars, redness and swelling? Aloe may be a key ingredient to look for when crafting your personal skin care regimen! The plant's gel and leaf juices are considered demulcents, meaning that they are capable of reliving the nagging irritation and inflammation many of us regularly experience.
From eye gels, serums,  moisturizers and creams, toners, and masks, this powerful ingredient is often utilized with the aim of soothing, moisturizing and repairing protein breaks in the skin.


Still feel like you need more information to decide whether or not incorporating Aloe vera into your regimen is right for you? Worry not! We've listed a few of Aloe's most spectacular benefits that you may want to start taking advantage of today!

In our humble opinion, your skin will thank you for it!

1. Sunburn Soother
Probably Aloe's most celebrated benefit is its calming effect on sunburns. Aloe has powerful healing capabilities because of its nourishing properties and antioxidant composition. Aloe vera acts as a protective layer for the skin that replenishes lost moisture and helps skin heal more quickly.

2. Skin Quencher
Acting as an effective moisturizing agent for thirsty skin, Aloe doesn't leave behind a greasy feel that many ingredients can. Certainly, this is great new for our friends with dry, oily, or combination skin types. Using products with Aloe vera will also give you a moisture defense that won't allow makeup application to dry the skin out. We suggest employing Aloe's hydrating qualities as treatment against redness, razor burns, flaking skin, and dry patches.
3. Stretch Mark Reducer
We all know that human body is capable of amazing things and the skin is pretty impressive all on its own! The human epidermis is extremely elastic and will expand and tighten as needed to accommodate change. However, when elasticity is damaged, scars and stretchmarks can endure. Often, these pesky marks appear due to a series of small tears in the layers of the skin.  As a result of Aloe's molecular structure, a moisturizer with this ingredient can successfully diminish signs of stretch marks and restore skin's healthy appearance by healing these small tears.
4. Anti-Aging
Losing elasticity in skin doesn't just cause stretch marks. The loss of elasticity can also lead to the development of fine lines and wrinkles in the skin. Luckily, Aloe vera contains many natural antioxidants, such as Vitamin C, beta carotene, and Vitamin E that work to improve skin's natural firmness and resistance to loss of elasticity.

5. Acne Relief
Aloe's healing and anti-inflammatory abilities arise in large part from the presence of two hormones: Auxin and Gibberellins. Gibberellin in aloe stimulates the growth of new cells and improves skin cell turnover, allowing skin to naturally repair at a faster rate while decreasing the severity of scarring left behind.
For those of you with acne – we feel your pain. We understand how difficult (and painful) it is to battle through inflamed skin, itchiness, and post-acne scarring. The soothing and cleansing properties of aloe can reduce your daily struggle as it addresses blistering, clogged pores, redness, and scabbiness.
Try it for yourself! This miracle plant can be used to increase the effectiveness of most skin (and hair!) care product on the market. Keep an eye out for it when reading product labels!

Eve Hansen Products that Contain Aloe:
- Vitamin C Night Repair Cream