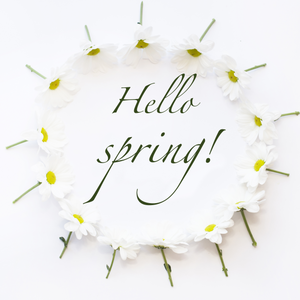 With winter fading away, springtime is here once again!  This is usually the time of year where everything begins to slow down. The holidays are over, the new year has begun, and many of our New Year's resolutions have become a distant memory. Springtime doesn't have to be the time where things begin to plateau – there are a lot of exciting things to look forward to: flowers are blooming, birds are singing, and the countdown to summer has officially begun.  
That being said, it's the perfect time to show your skin some love and spice up your skincare routine to have flawless skin by summer!
Let's go through the three essential products to help control the damage that was done to our skin by the windy winter season.
Rosehip Oil
Rosehip oil is known as skincare's best kept secret. Its unique formulation of essential fatty acids and proteins make it a nourishing powerhouse. On top of fatty acids, this oil is rich in Vitamins A and E which help skin moisture and cell elasticity. In skincare, Rosehip is admired for its natural antioxidant, anti-inflammation, and anti-aging properties. Massaging rosehip oil onto wrinkles, fine lines and dry skin will help reduce their appearance, while also moisturizing, removing bacteria, and unclogging skin pores.
Our skin faces a lot of abuse from the winter season, but rosehip Is able to reverse just about any damage imaginable. The windy and cold weather strips skin of its luster and glow but rosehip is in the business of restoring radiance. Just a few drops of the oil into your foundation or just massaging a few drops of oil into skin will bring out the glow that has been lost over the last few months.
Rosehip delivers natural healing to all layers of the skin and does not leave behind a greasy residue. This makes it the ideal oil for acne-prone skin, and its moisturizing properties are perfect for those with dry skin. The perfect skin-loving and skin-saving tool!
Hyaluronic Acid Cream
Hyaluronic Acid is known to reverse the hands of time and take away years of damage and poor skincare habits. The winter season is known to dry out and irritate the skin – causing flaking, rashes, and redness. If you haven't already, now is the time to reverse that damage and put your skin back on the road to moisture recovery. A majority of the skin concerns we face daily are due to a lack of moisture. Moisture in our skin is what keeps it soft, supple, radiant and elastic. The more moisture our skin loses, the more aged it looks.
Hyaluronic acid holds vast amounts of water and draws moisture from the air, so using it as a moisturizer cream adds an extra layer of defense to vulnerable skin areas. It's full of antioxidants like vitamins C, A, and E that will help reverse and prevent future damage.  Add our hyaluronic acid cream to your routine and soak in the moisture! 
Vitamin C Serum
Vitamin C is the ultimate year-round skincare ingredient but there are a few key reasons to start incorporating it into your skin routine during spring! If Vitamin C Serum hasn't been adopted into your regimen, now is the time to do so because it is the pivotal time in the year where our skin is dried and cracked because of winter, and will become irritated and sun damaged a few months later in the summer. Starting a vitamin c treatment now will soothe existing damage while building a layer of sun damage defense for when summer days come around. Vitamin C also brightens and clears the skin as it works to even skin tone and reduce the appearance of wrinkles, fine lines, hyperpigmentation, and age spots. Talk about showing love to your skin!
How to combine the three in a skincare routine:
Any effective beauty routine begins with a good cleanser. Click here to read about selecting the cleanser that is right for you!
Cleansing is the first step of a skin care routine and it is important because it cleanses the skin and unclogs pores to make product penetration easier. Next comes toning! Toning is the most overlooked step in skincare as many are not aware of its importance. An effective toner makes all the difference in the skin tone and pH levels of your skin. Grab a cotton ball, drench it in the toner, and softly glide over your face and neck.
After toning is where you would use the Vitamin C Serum. Serums target specific skin care concerns and there is a serum for just about any issue you may possible have! After your serum has dried is when you would apply the Hyaluronic Acid Cream.
Rosehip oil application can come after Hyaluronic Acid Cream as oil is one of the few products that's able to penetrate your face cream and reach the deep layers of the skin. Pat and massage in 2-3 drops of rosehip into desired areas and reap the skin glowing benefits.
Quick recap of these three products: Rosehip to nourish and add a glow, hyaluronic to moisturize and repair, and vitamin C to protect! Use these three products regularly and you are guaranteed to notice an improvement in not only the appearance of your skin, but the texture and health of it too!